Boulevard de Sebastopol
The Age Of Reason, p.127-8
He turned into the Boulevard de Sebastopol, which lay scorching under a clear sky, and slackened his pace. FAIR : he looked up at the sign, made sure that the faces of the passers-by were unknown to him, and went in. It was a long narrow hall, with brown-washed walls, and the gaunt ugliness and vinous reek of a warehouse. Daniel plunged into the yellow light, it was gloomier and murkier than usual, and the daylight drove it to the far end of the hall, for Daniel, it was the light of sea-sickness : it reminded him of the night of nausea he had passed in the boat to Palermo : in the deserted engine-room there had been just such a yellow murk, he dreamed of it sometimes and awakened with a start, thankful to find himself in darkness. The hours he spent at the Fair seemed to him punctuated by the dull, rhythmic thud of crankshafts.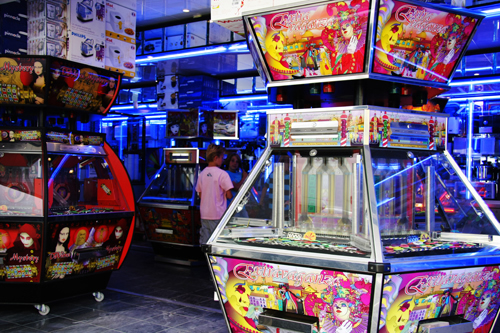 The Age Of Reason, p.127-8
Along the walls stood a row of roughly constructed boxes standing on four legs; these were the games. Daniel knew them all : the football players, sixteen little figures of painted wood impaled on long brass wires, the polo players, the tin automobile that ran on a felt covered track between houses and fields, the five little black cats on a moonlit roof and a revolver to shoot them off it, and the sweets and scent machines. At the far end of the room there were three rows of 'kineramas' the titles of the films being displayed in large black letters: The Young Couple, Naughty Chambermaids, The Sun-Bath, The Interrupted Wedding Night. A spectacled gentleman had unobtrusively approached one of these machines, slipped a frank into the slot, and was goggling eagerly through the mica-covered eye-holes. Daniel was choking: it was the dust and the heat, and the thud of heavy blows which came at regular intervals from the other side of the wall. On the left he observed the attraction: some ragged youths had gathered around the Negro boxer, a wooden figure six feet tall, with a leather pad and a dial in the centre of his stomach. There were four of them, one fair, one red-haired, and two dark, they had taken off their coats, rolled their shirt-sleeves up their skinny arms, and were pounding on the pad with all their might.