A driving tour of England, must be fecking mad. Too many cars, too many people, too many roads, the car's too small, the towns are shitty, and the momentary flashes of green between the towns are not worth it, and the place is full of English people. And we have eleven days to go of it. Hate this.
1:22pm
Knole House.
And, apparently, the deers in the park are 'dangerous'. What do they do? Bite? Kick? Sit on your head? Carry switch blades?

The house is good though, the kids are given puzzles to solve as a means of touring the house. It's smart. Beginning with the statue of the reclining tart, and gets better from there.
2:35pm
Chartwell. Home of that bastard Churchill.
First time I've ever seen a Nobel Prize for real, though.
5:08pm
Chiddingstone. A National Trust Town. And the pen I'm using is probably certified by the National Trust too. And Liam's taking a National Trust Piss behind the National Trust Church.
12:45pm
Sissinghurst.


It's raining, but the white garden is worth getting wet for.
4:07pm
Batemans, Kipling's House.
I'm glad Liam did some secret, illegal, filming of Kipling's study. It's brilliant, but there's something about Rudyard Kipling that just gets right up my nose. All the Akela's and Kim's and Mowgli's and Kaa's and all that Cubbie and Scoutie stuff that I have a totally unreasonable but passionate hatred for, and all his 'be a man, son' exhortations. All that camping out in the wilds, all that Being Prepared, and that tying knots, and only using one match. Wonder if he exhorted his son to be a man and join up, and wonder if the ol' RK kept the tears back, like a man, when the boy got killed, like a man.
6:32pm
And tea in a Starburger, as every pub in England seems to be closed on Sunday nights, yeah, they're all off at Evening Mass or something.
The waitress who has just brought over the £1.20 Starburger Cokes has the puckered look of too many cigarettes, and a sad look of a few too many stories she could tell, but, she recommends Heever Castle, "a feminine castle", where Henry VIII courted Anne Boleyn.
Monday 3/7
morning
on the train to London

12:45pm
London
Found Chappells. Seems like I finally found Mecca, only to be disappointed. Bond Street. Number 50. A few things tempt. I thought they'd have everything. But they don't. The Gow collection, a John Kirkpatrick collection, but no Michael Nyman, you have to hire it. And the attitude of the Chappell's staff sucked. Seriously sucked. The Nyman's are only hired by 'professionals', I'm told. How dare this little prick assume that I'm not. Maybe I'm not as well dressed as Nigel Kennedy, but if Nige walked in, this officious little bastard would be bum-kissing him 'til his tongue hurt.
1:01pm
Yesterday, Starburger. Today, Burger Delight in Baker Street. Liam prefers the blonde waitress, but the accent on the brunette was vaguely French.
3:13pm
The quickest way to get to The Tate from Tower Records (where the Soundtrack section is probably the largest on the planet, but they don't have the soundtracks for either 'Tank Girl' nor 'The Name of the Rose'), is on the Underground, Piccadilly. One stop, then change, get off at Plimlico.
3:52pm
The Tate.
"Ophelia's death in Shakespeare's 'Hamlet' is described by Queen Gertrude in the following words 'There is a willow grows aslant a brook ... there with fantastic garlands she did come ... when down her weedy trophies and herself fell in the weeping brook. Her clothes spread wide; and mermaid-like, a-while they bore her up: which time she chanted snatches of old tunes'. "
Millais painted the background of his picture at Ewall in Surrey.
Okay, I admit it, I love this painting. It's up there with the great watery tarts of all time. Botticelli's Venus, Hylas and the Nymphs, this one, and the one in the next room, Waterhouses' The Lady of Shalott. And somewhere else are the Dali's and Magritte's and ten thousand Turners.
10:58pm
The last view of London was of Big Ben, disappearing as we left on the train earlier. Probably be the last time ever, as I can't imagine ever wanting to tour England again.
At some time today, we would have come close to the Albert Bridge, or more specifically, close to the hallowed ground where the cover of The Pogues Misty Morning, Albert Bridge was photographed.
Tuesday 4/7
1:40pm
I think this place is called Petersfield, it's between Chichester and Winchester. Up the street, looking for something like a boulangerie. No luck. Teddy Bear hospitals, Woolworths, three supermarkets, including one where I could have bought a magazine on do-it-yourself home porn complete with x-rated explanatory video. But no bread shop.
Brighton is a hole. Except for the Royal Pavilion, and The Lanes. Can't understand why anybody would actually go there, or why people would spend an extraordinary amount of money to stay at the 'Royal Thistle Hotel' on the foreshore, or why there's so much garbage for sale in the tourist souvenir stalls. Who the hell would actually want a souvenir of this place ?
The piers, the intriguing dead one, and the tacky new one.
4:25pm
Winchester
The Cathedral. Jane Austen's grave, set into the floor, doesn't mention that she wrote.

9:10pm
And after a pint at the 'Crown and Anchor', we do the 'riverwalk', the shallow flowing stream, complete with ducks and reeds, along the flint wall, passing the 'Saint Cross' alms houses, pass the Cathedral College, lines of schoolboys, grey blazered and green tied, then the house Jane Austen died in, and through an arch to Cathedral Close. This is truly impressive, about as English as you can possibly get.
Wednesday 5/7
10:37am
Salisbury Cathedral
"No, we don't turn anyone away," said some lady, who'd overheard me outside, balking at the £2.50 admission, who then shunted us inside, and who explained to the ticket-seller there that we were to be let through.
Whoever you are, lady, thank you.
12:51pm
Glastonbury

Are we at the Tor? Nope. The Isle of Avalon itself? Nope. The Abbey? Nope. We're at the true shrine, the Glastonbury Safeway. Where, to get around, you need one of the maps from near the front, and, if you want, you can buy a four-pack of Fosters, £4.19, or, if you buy two, you get a third pack free. So, after sinking a dozen cans, you're truly prepared for the mystic, spiritual journey that is the lesser lights of Glastonbury
2:31pm
The Abbey. At the site of the ancient graveyard where, in 1191, monks dug to find the tombs of Arthur and Guinevere. I'm not sure, but I have a feeling they might have been vaguely disappointed.
3:18pm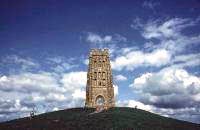 Glastonbury Tor. Walked up, a crow watching from a gate. But on the way up, there's this girl, all in black, with redbrown hair, pale skin with freckles, who walked by, and smiled. Yes, it's Morgana herself, obviously just changed from her crow form of just a few minutes ago.
When we reach the top, Morgana's already there, having a cigarette, as any self-respecting Morgana would, although with the amount of dope that must get smoked in this town, it's difficult to tell..
Strange bunch up here; there's Morgana herself, but also the burping youths proud of their talent of belching at will, and a French tour group, and people with walking sticks, and another some chick wearing so much jewellery it must be difficult for her to actually move, and her badly acned boyfriend, a drummer with half a bongo set who has no sense of rhythm whatsoever, while others just bathe in the sun.
6:06pm
Back in Town. And the Parking Ticket from Glastonbury's finest that I just found taped to the windscreen is another one that won't get paid.
This whole town is like the 'Fairy Shop' on steroids. 'The Gothic Image', hippy stuff, and gothic, and new age, crystals, heal yourself books, King Arthur, grails, rainbows, tinkling chimes, buttons, badges, it goes on, and on .. shop after shop of the same hippy, tacky junk.
9:34pm
Back on the Tor again, with Liam. Yep, I'm cynical about all the hippy shit, but there is something special about his place. Just watching the sun set. With others, also just watching the sun set.
The view, in every direction, is magnificent.
Thursday 6/7
9:54am
Barrington Court. Gardens by by Gertrude Jekyll.

10:18am
Stayed until we were asked to leave, as the place doesn't officially open 'til 11, and we're too early. Still, strolled out slowly. Don't think we missed anything.
10:54am
Chard.
12:43pm
Killerton House and Gardens.
4:06pm
Ashburton. Buying matches.
"5p or 9p ?"
"9p."
I'm feeling reckless.
Friday 7/7
11:10am
Totnes Market. And Liam's finally managed to get the green hippy tie-dye shirt he's been craving for since Glastonbury. Must've been inspired by the hippies there.
2:42pm
Axbridge. And King John's Hunting Lodge is part of the village square, and, according to A.A. Milne, he was not a good man.
5:25pm
Bath. At the hostel.
6:28pm
And the 'Cosmic Sausages' are busking near the Bath Cathedral. Best buskers I've heard in a long time.
7:50pm
Ghost Walk, apparently an 'invitation to fear'. It's fun, but not really scary. The tour guide knows his stuff, I think, but for all I know, he could be making it all up.

9:00pm
I can't believe this. We've just bumped into some rellos from Australia, Christ, can't even beat them off with a stick, and we're having tea with them tomorrow night.
Bradford On Avon
Couldn't find Solsbury Hill, nor the Iron Age Fort that's meant to be on top of it, guess I'll never get to see the city lights from up there then. I think all the signs leading to it gave been pinched. According to a guy we asked directions from, it was just "over there", wherever "over there" is.

11:20am
There's a Saturday morning market here. Shirley somebody is entertaining all with her piano accordion, but getting a little risqué with Norwegian Wood. There's stalls of handicrafts made by the Church Wives group. But over into the Bridge Tea Room. Watch your head, the door's rather small.
later
Lacock
I've been here before, I don't remember it being so lifeless, as though something has sucked the soul out of the town. It's a jaded tart. The Abbey was good though, particularly the story of Olivia, leaping into the arms of her waiting lover below, but knocking poor Richard unconscious in the process, and the violinist who now owns the Abbey, or something like that.
6:11pm
back in Bath
The Royal Crescent. The Circus, saw where the Scarlet Pimpernel lived. Down the street that was the height of fashion in Jane Austen's novels, down to the Puteney bridge, the Grand Parade (of lifeless packaging, probably).
later
We find the rello's. Have tea at the Owlers Free House. Nice enough, monster fish and chips, and wine. I've drunk so much I should be rolling, but I'm not. Chats, about Dublin, Peter's days as an anarchist, living in India, archaeology, and how exciting it was to have seen Princess Anne. Not bad for an ex-anarchist and a current republican, I suppose. And while LaTrobe might be the sixth best rated university to study archaeology, it's strength is in its teaching of theory, how to look at the evidence and ask 'why', but not how to half-section a hole, whatever that is.
10:20pm
Walking back to the hostel. Looking back, I guess the city lights are much the same wether you're on Pulteney Hill or Solsbury Hill. The white abbey rises dramatically above all in the night light.
Youth Hostel
Today I am going to remain calm, be unbelievably tolerant and cheerful, no matter what. Pardon, dear, you want me to suddenly diverge into the path of the oncoming traffic? Certainly, dear. It'll be my pleasure.
10:04am
Chariot's Rest. Kind of a Greasy Joes All-Nite Truckers Cafe, just out of Bath. Breakfast out of packets, and Rod Stewart on the jukebox. We are sailing .. we are sailing ... Maybe someone should write a guide to greasy truck-stop cafes. Just think of all that blueberry pie you could eat.
11:45am
"Kindly refrain from sitting or standing on this memorial".
Okay then, I won't, I'll sit on this railing instead. I think this town is called Minchinhampton, at least there's a Minchinhampton Church.
Drove through Box, but couldn't find Peter Gabriel's house. I'm sure he would have invited me in for a session if he knew I was passing through. Then Nailsworth, nearly 10/10 on the town score card.
For someone who's read every Miss Read in existence, C is gaga with excitement at being in the Cotswolds. It's as pretty as she imagined it would be. Thank God.
12:12pm
Theescombe. C's ecstasy level has just been raised a notch by the 'old school house', and the 'teachers cottage'.
1:15pm
Chedworth Roman Villa. Interesting enough, in a "I'm supposed to be interested in this because I'm a history teacher" kind of interesting way.
6:10pm
Oxford
Right here, and right now, is probably as English as the England can possibly get. Over there, cricketers play in their whites, with the occasional clap of approval for a ball well hit, and the thunk of the willow. While in front of us, the stream upon which punts are punted, although the last punter was hopeless it was all jolly fun anyway, and the ducks paddle, and the gardens are botanic.
9:07pm
At the youth hostel, and good God, it's full of Australians, voices like toothpicks shoved up their noses, embedded in the ethmoid bone. Maybe I sound like that too, bloody hope not.
9:21am
Still at the Youth Hostel, and obviously a lot of youth that pass through this place don't know how to wash a dish, leaving the sink place stacked, maybe expecting their mummies to suddenly appear and do it for them. Maybe they can't read the "Please wash up and dry everything you use. Please do not leave it for others" sign.
12:25pm
Noke
We're in Noke. In the grounds of St Giles Church, Noke. Unfortunately the Noke pub is Closed Mondays, bloody typical. On Noke Hill there's a Celtic shrine, apparently, near a Roman Villa. The name means 'by the oak trees', and the Dorrell Family dominates the churchyard cemetery. Signed our names in the Church visitors book, and left a note to the effect that as my surname bequeaths to me the entirety of the lands surrounding this village, in my generosity I am letting the locals continue to run the place in my absence. Took a photo of us next to the 'Noke only' sign, next to the Noke Reservoir.
1:28pm
Having a pint in 'The Eagle and Child', where Tolkien and C.S. Lewis used to drink, and discuss works in progress, and read aloud from what they've written. Gave up trying to find Wolvercote, where JRR's buried, despite the notes:
Up the A34, then Babury Road, near the bypass road, left turn called Five Mile Drive, turn
into it, Wolvercote Cemetery on the right hand side. Grave on the Western side, in RC area.
And in my imaginary world, as yet untitled, but certainly better than 'Narnia', parking spaces are for more than two hours, the pub in Noke is always open, maybe the manor house would welcome anybody named Noke at dinner-times, driving is always stress-free, people are always happy, videotapes of holidays are never boring, and people who stay in youth hostels always clean up after themselves, and National Museums offer hard-working volunteer staff fabulously well-paid jobs and a house in Ranelagh, rent-free.
Nice enough pub though, but would have preferred one of the snugs near the front, but the middle-section is certainly nicer than the back, which is more like a bricked-in sunroom. A Guinness and the usual.
2:20pm
In the 'covered market'. God knows how long the pasties will take, but the chips will be frigid by the time they arrive. And the boy has just finished plucking the dead pigeons outside M.Feller & Sons Family Butchers. And the record shop specialized in Classical and Jazz.
2:59pm
We made it back to the car just in time. A brown bomber's writing up an infringement notice for the car parked in front of us. Ha! A narrow escape by the barest of margins.
later
A walk down Longwall Street, hoping to find the footpath through the deer park. No luck, it's the exclusive property of Magdalene College, to which the public, us, is not permitted. Walk back to the Botanic Gardens. Closed at Five.
There is something wrong with England, and something chronically wrong with Oxford.
7:20pm
Monday Night at the Youth Hostel.
Should have known, should have been able to predict the school group. The running up and down stairs, the make-upping tarts, the pool-playing boyos, the lounging over everything in sight, the squealers, I wish they'd all just feck off.
Sitting in the grassy bit out the back, under the big tree. It'll rain tonight, the weather will break with thunder and lightning.
Still, at the same time tomorrow night we'll be pack in Dublin, if all the connections work.
Tuesday 11/7
4:52am
Oxford Youth Hostel, fantasizing about doing Anna and Julia a serious damage. The schoolies who talked all night, loudly, after running riot 'til midnight.
9:05am
Birmingham
Dropped off the car. Despite missing the offramp and nearly ending up in Scotland on the way. To the flyover to wait for the bus to the 'Digbeth Coach Station", whatever that is. The driver explains to Shannon how to guide her parents from the Bus Terminal to the Coach Station.
11:00am
Our bus number is 861, and we have 20 minutes to wait. Birmingham is grey.
11:34am
On the bus, it's late, and we're on "a tight schedule". We're on the M6, and the sleeping girl across the aisle has a home done crucifix tattoo on her arm.
11:54am
Staffordshire. A 45 minute break.
12:33pm
The coach driver sucking on his pipe, beneath the 'No Smoking' sign. What a guy.
1:52pm
We're in Wales. Heading for Holyhead. It's raining.
3:11pm
Gwalc.
3:17pm
Bryugwran. Thinking that we should have toured Wales, not England. It looks more interesting.
3:55pm
Ferry terminal. Waiting in the queue.
4:07pm
On the bus to the ferry.
4:27pm
On board, The Stena Cambria, no passport check. The backpacks are in the locker room. Safety announcements, something about long and short blasts and life jackets being issued at the muster stations.
5:02pm
Finally, we're moving.
6:36pm
Out there, it's grey, the sea merges with the sky, all grey, impossible to tell where the horizon it, it's all blur.
8:13pm
And Ireland has appeared. Howth over there, we think, and Dun Laighoire ahead, and what must be Dublin Bay in between. I feel like I'm coming home, to where I belong.
8:32pm
and watched the Irish flag being hoisted. Felt like saluting.
8:55pm
On the bus, the 46A to Dublin's An Lar.
11:04pm
Eventually got to St Stephen's Green.
Wednesday 12/7
12:41am
God, it's good to be back.
10:42am
Bewley's.
Yes, the brilliant coffee. First time we've had a Bewley's Breakfast. Heaped amounts.
1:33pm
Tower Records. South Great Georges Street.
And there's Björk, over there, behind a table, and signing things, and there's plates of fresh fruit, and bottles of mineral water. She's more gorgeous than I'd expected. She's unbelievably beautiful. Truly.
10:35pm
A perfect full moon tonight. People have moved into the building next door that we've christened 'Swifts', as it has scenes from Gullivers Travels high on it's outside walls, and their kids are playing in the courtyard area down below, under the lamps that burn orange.
9:24am
The Bailey has been utterly destroyed, gone, turned into a disaster area. And at the Museum, something called Modes Plus has been installed.
10:00am
Catalogued about 28 of Westropp's negatives of Stone Forts, in County Clare. Best bit was finding what looks like some kind of Treasure Map wedged in between the negatives. Dunno where the x is that's supposed to mark the spot, but if it is a map of Ireland, then why don't the place names make sense ? Whatever, it's been written on the back of a card addressed to:

Westropp & Lady
Department of Agriculture and Technical Institution
for Ireland

Metropolitan School of Art, Dublin
The Department requests the pleasure of your Company at the
Distribution of Prizes to the Students
in the Gallery of the School
By his Excellency The Lord Lieutenant
Tuesday 12th February 1913 at 3.30

Good time and place to draw a treasure map. The left half of it is missing. Probably had the 'x' on that half too.
1:57pm
Leeson Lane. Barra's not here, but the cremated remains from Ballingore are. Spread out on tables in the lab upstairs.
later
Shannon's been making candles, after burning her school report. I'm shown the cremations, and Liam got the sacrifice on video.
6:19pm
Altan are playing at the Olympia tomorrow night.
6:41pm
There's a girl out there, looking up a window in the Iveagh Buildings across the road, dressed in a shift and boots calling out for "dro log", or something like that, before giving up.
9:14am
Museum
Modes Plus is firing up. Maybe there's something on that I don't know about, but I'm the only one here. Maybe they've gone to kick the shite out of the farmer who's claiming to have Ireland's "Crown Jewels" on display, as reported om a clipping from some local newspaper sent to Ned yesterday.
1:52pm
While we've been away the footpath out the front has been repaved.
4:27pm
Temple Bar, looking into some art gallery. Paintings. Lists of 10 favourite things. TV shows, Absolutely Fabulous, and of the 10 favourite records, three were by Joy Division, while Kiss Me Kiss Me Kiss Me came in at Number 6. Walked up the other three flights of stairs, to a new exhibition of paintings. Criss-crossed layers. Nothing startling, nothing that's not just another Art Con Job. The best thing, though, was the balcony on the top floor. The Liffey, the bridges. The other balcony looking over the rooves of Temple Bar, and of the construction work happening behind the barricades. The other 10 favourite things included drugs, with magic mushrooms at the top of the list; 10 favourite Matisse paintings; and the favourite film is Apocalypse Now.
9:20pm
College Green.
The Dublin Blues festival. Robert Cray's on later, just after a band called 'Out of the Blue'.
They're off, finally, after their last tune, 'Repo Man', and now the roadies are setting up the stage for Robert Cray. I'm handed a condom by some sweet young thang. "Condom?" she asks, well, okay then, if you insist. They might be Catholic Irish ones, designed to break.
Robert Cray's on, it's a free gig so what the hell. The crowd goes ape over one Cray song, I guess it must have been a hit somewhere at sometime, sounded more MOR'ish than the other stuff getting played, but I don't recognize it at all anyway. And not really likely to rush out tomorrow and buy an armful of Robert Cray records. Then, I'm handed a second condom. So's Liam, he's thrilled. And probably desperate to try them out.
Saturday 15/7
Olympia Theatre
12:11am
"Altan are on the way, so enjoy the gig !". Maybe Altan's lost, Spinal Tap like, in the labyrinth behind the stage, maybe they're just being cool and fashionably late.
7:42am
A good gig. The best part was the last medley, in the encore, when they were joined by three dancers from Riverdance. Sheer joy.. then they repeated the entire thing.
11:38am
and back to the Olympia again.
"Yes, dear ?"
I ask for the Altan poster.
"Go ahead, dear."
I carefully unpeel it from the wall.
Another addition for the walls of my weeping room.
2:21pm
and my Australian Republican Movement t-shirt now has Gerry Adams signature.
Waited in the queue for a while. He appears, for a book signing at Waterstones. Everybody else in the queue is clutching their copy of his book. Get to the desk.
"I don't have your book, but I was hoping you'd sign this."
"This won't get me into trouble will it ?" he asks.
He signs.
Some comment about how Australia will probably be a republic before Northern Ireland.
We shake hands, "Thank you."
And almost sprint from the shop, like I'm on springs.
4:43pm
GF Handels. Capel Street (which, in Irish, is Sráid Céipil).
Slattery's was full and noisy, "Everybody Hurts" playing loudly but nobody crying into their Guinnesses. The Boars Head looked interesting, The Pig and Wig okay, but this was the emptiest and the most interesting. Trad music playing over the system, quietly, not interfering with the cricket on the TV. Kent is playing Lancashire and need 177 runs from 30 overs.
Sunday 16/7, St Swithin's Day
12:18pm
And Shannon's done something to her hand, slipped while playing chasey up on the roof garden, bruising her fingers, and I've just finished picking tiny splinters out of her wrist.
1:57pm
Eddie Rockets. Liam would love to win the huge coke can that folds out to become a hi-fi system.
10:50pm
Back, from Penny and Evan's. The best bit was meeting somebody who is one of the Leaving Cert English examiners, and she's describing the only Leaving Cert English essay that received a perfect score, 100%. About a girl with enormous thumbs, and who, hitched. Then, me, interrupting, asking if the name of the character with the enormous thumbs was Sissy Hankshaw.
Yep,so whoever gained the only perfect score in English in the 1995 Leaving Cert ripped off the idea, and the words, from Tom Robbins' 'Even Cowgirls Get The Blues'. I think this examiner person had better get herself down to Waterstones tomorrow and start reading.
Shannon is barely able to move her fingers.
None of the vans lined up along Merrion Square South have Liam Neeson's name on, so he's probably moved on, and apparently Neil Jordan's gone walkies somewhere. Nothing is happening here, the caterers are the only animated ones here. But some chick in a 'Subpob' T-shirt tells Liam that the only thing he needs to get into the Irish film industry is a Union Card, from the SIPTU building, then you just apply for whatever's going.
12:12pm
Mercer Clinic.
About Shannon's hand. We have to have it x-rayed at the Meath Hospital, 10 minutes down Aungier Street.
1:08pm
And after asking at the Meath Hospital, we're redirected to the Harcourt Children's Hospital. Reception down, right, two doors, getting lost, head to the x-ray room. Wrong. Directed to the right place. Casualty. Name, address, and "been here before ?" Whatever happens, I think violin practice might be out of the question for some time.
1:57pm
Still waiting. C has arrived, with sandwiches, this is like a perverse holiday outing.
4:39pm
She has a broken finger, 'a tiny fracture', and has her arm in a sling.
later
The SIPTU building. Liberty Hall, 12th floor. To get the Union Card. Liam is told that he needs four signatures from people already in the film industry, just to be a gopher on the set. So, it's left at a 'maybe'.
7:05pm
On the balcony. Outside, one of the girls from the Swifts building next door is dancing up Bride Road, left arm arch then right, then a few skips, stopping every so often for a slurp on whatever it was they bought down at the Londis. Probably mineral water laced with vodka. And a man leans against the 'Baths' entrance, eating his Burdocks in the rain, and now an old woman appears, with crutches, heading towards the Napper Tandy.
By the way, a 500ml can of Fosters costs £1.05.
8:31pm
Still just sitting on the balcony, having a cigarette, feeling a little vulnerable and exposed to whatever; the people passing below, the wet weather - the fine Irish misty. C's telling me that the difference between the Italians and the French is how they arrange their furniture.
9:35pm
And C would like it mentioned that "mushrooms are God's personal gift to mankind."
Tuesday 18/7
10:36am
Museum
Cloyne negatives, spent hours on some place Westropp called Ardrilling, just to discover he actually meant Ardarilling.
11:39am
Coffee, with Nigel. Modes vs Modes Plus conversation, well, not really a conversation, more like a Nigel monologue, fields and subfields, lost the thread after a short time, hope I nodded at the right times.
1:22pm
The case I stood next to when I spoke to Sinead O'Connor has four gold bands from Bellville Co Cavan 2200-1800 BC; and the broken gold band (the band óir) from the same place; a gold earring from Deehommed Co Down; and a gold disc and pin from Ballymooney, Co Cork, also c.2200-1800 BC.

Afternoon. And after leaving the Museum, walked down Wilton Terrace, and along the canal. Kavanagh's canal. Later, along Lad Lane to Fitzwilliam Square and down to Baggott Street.
3:12pm
Walked down Wilton Terrace, along the canal, trying to find Australia House. The crowds are out, on their lunch breaks, enjoying the sunshine, on the seats, sitting on the grass. Didn't find Australia House, which is supposed to be down there somewhere. For some reason, I found myself desperately wanting to know where Geelong was on the AFL ladder. A bit sad, I suppose, but I can't really get into soccer at all, although if someone threw an XXL Man United Cantona 7 shirt my way I'd be pretty thrilled. Cantona, the Sartre of Soccer.
But I did pass 'Lad Lane', such a great name, to Fitzwilliam Square and down to Baggott Street. Painters are busy. One guy was painting columns white, another metalwork black.
5:27pm
And C thinks that the young lovers in St Stephens Green are "unfortunate victims of the biological imperative." But I discovered where Cuchullain's stone is, at Knockbridge near Dundalk. Discovered this after I'd begun reading an archaeological treatise on Cruachain. Should have realized that good archaeological folk disregard legends, as of being of no account. In fact, apart from a tiny bit of useful information, is majorly concerned with typology. Yes, we have a ringbarrow type here, and mound types A, B and C, and ringforts type A and B here and there. Making it all lifeless.
I think that if Cuchullain somehow managed to read how utterly boring the archaeologists have rendered his life, he's whip out the dreaded gae bolga between his toes and let fly, filling the crevices of whatever boring bastard wrote this stuff.
9:51pm
Maybe I should have gone to the session at the Auld Dub tonight, maybe I'll go next week. Actually, I'd like to find another session, different people maybe. Don't know why, really, they're nice enough. And, for some reason, the 'King of Laois' on the Dan ar Braz 'heritage d'Celtes' CD nearly moves me to tears.
It's finally beginning to cool down, it's pleasant outside, still. The children from Swifts next door are outside, as are people just walking the street, maybe they're walking to somewhere, maybe just enjoying the coolness of the evening.
news
There's trouble in Bosnia, and the UN forces are being threatened, and the embargo on the Muslims is about to end, but no specifics, Ireland beat Denmark in the cricket, and I'm surprised that Ireland even has a cricket team, at the moment it's 18 degrees, the issue for tonight's talkback is 'Are Boyzone becoming the new religion for todays teenagers ?', and apparently Robbie leaving Take That is 'the end of some people's' lives', and Sinead O'Connor has pulled out of the Lollapalooza tour, something to do with the heat and being pregnant.
Another Westropp book done. Cork, this time. Only a few decent photographs, not many. It must take a unique and singular talent to take places like Kinsale and Youghal and everywhere inbetween, and make it all boring.
2:25pm
Waterstones Bookshop. There's a book signing in progress, someone named Paddy Joe Hill. He's addressing the small crowd. Turns out he was one of the Birmingham Six, and released after 16 years. I listen with renewed interest, he talks about the appalling treatment of Irish prisoners in English jails, about how he feels nothing for his children, but feels for those with whom he shared the 'Birmingham Six' tag, and more for those currently involved in the 'dirty protest' at the moment, about how he looks forward to each time he visits his family, but after half an hour the 'little men' in his head are screaming 'leave !", he speaks about readjustment, about controlling his anger, and about the other five.
a bit later
Grafton Street
Take That fans are in the streets, demanding Robbie's immediate return to the band, others declaring that they still love him even though he's left the other wankers. Maybe he did leave because of the official 'musical differences', but I doubt it. The Take That protest goes by in about a minute. It's pathetic. Maybe they've gone to fling themselves off the O'Connell Street bridge. Live in hope ...
5:05pm
On the bus, to the Botanic Gardens
5:50pm
The Hare Krishna centre in Dame Street is no more, and the building is for sale. Pity, I quite liked the 'Ages Of Man' display they had in the window. And the Anna Livia Fountain in O'Connell Street was full of wrappers and cans, and we sat around the edges of it with all the orange and purple haired individuals, who are all the same. Over the road is 'Ned Kelly's Amusement Arcade'. Must be a different Ned Kelly.
7:15pm
The attempt to visit the Botanic Gardens was noble, but it was closed. According to the Heritage Information it's open during daylight hours. Well, it's still well and truly daylight, but it closed at 6:00 anyway. Walking back, Capel Street, from the tattoo parlour that's never open, down to the bridge with the horse-fish thingies, then up Fishamble Street, the Dublin Corporation building, and I'm wondering about the damage an Oskar-type voice could do. Pass the Messiah plaque, and the restaurant attached to McKinlay House is called The Refectory. Cross Lord Edward. It's really close, this weather cannot be normal. Some nice soft Irish rain would be nice, please Mr Rain God.
And Caroline is the one who'll be attaching all the labels to the Westropp negatives. Ned comments on the negative I'm doing at the moment, while he's giving Caroline the guided tour. It's the tobar ghraine, or at least that's what Westropp calls it. And repeating everything I'd just read in John O'Donovan's O.S. Letters Co Clare practically verbatim, that there was no Irish Saint by the name of Ghraine, so it's pagan Pre-Christian. Sometimes I'm so full of myself.
later that afternoon
heading out for the Wed Wose, on Exchequer Street.
a bit later
Inside, the Wed Wose is called the Red Rose. Been reading the property guide, 'The Red House' in Kilkenny is for sale, £190,000. This is an impressive house, with a 170 degree river frontage. Who do I have to kill to get this, I wonder, just bring me the vendor and I'll do him a serious damage.
much later
A cigarette out on the balcony. Really enjoy sitting out here. Occasionally being eye to eye with the top levels of the Dublin Buses. When the tourist one goes by I have this strong urge to yell, in an Irish accent, "don' be believin' what yer man is tellin' yer, they just be makin' it oop as they'd be goin' along." But I haven't yet, and I do admire the people that smoke upstairs, despite the 'No Craic Tobac' signs forbid it.
Down there, some pedestrians, the women, young and old, with prams. The old man staggering back to the Iveagh Hostel from the Napper Tandy. One of the Iveagh men, a skinny wreck with a stringy beard and wearing a beanie holding out his hand to each car as it squishes past on the wet road, as though expecting the passengers to quickly dig into their pockets and fling him any loose change. Live in hope, pal.
Heuston Station
Moving. On the dot.
Wellington Monument,which Stephen Dedalus must have seen from the train to Cork, with his father, on the journey to disillusionment.

8:24am
Tea and coffee in plastic cups, £1.25. It's Kenco Coffee, whatever Kenco is.
9:30am
A spire, in the distance. What town? What county? It has a castle, too.
10:11am
Kent Station, Cork.

The tour began, through Bishop Lucy's garden with the 'wild geese' fountain, the Christ Church were somebody married somebody else and wrote. To the Triskel Arts Centre nearby, ochre yellow walls, blue carpets, to art exhibition upstairs. The painted over photographs were good, the 'thoughts in a train' particularly so, but the painted over paintings were a tad wanky.
Up 'Keyser Hill', after crossing the bridge to 'the best view in Cork'. Well, it was a good view of the Beamish factory with its gleaming tubes.

11:54am
St Finnbarrs Cathedral. 20p for the guide, 30p donation.
The sculptured angels at the front of this place are just the best.
12:30pm
An Spailpin Fanac pub. Wellington and Marlborough drank here, too. Not much of a recommendation, but it's a brilliant pub anyway. The river through this city is almost neon snot green.
2:02pm
In the Cork art gallery. Harry Clarke's. Why isn't his name up there with the greats ? The man was a genius.
4:51pm
Half Moon Alley. Who could resist a street with a name like that ?
5:17pm
Back on the train, the unbelievably crowded train. Don't really want to sit opposite the fat kid with the REM 'Document' tape. Resentful of the fact that, while in Cork, didn't meet the ghost of Stephen Dedalus' father. Looked in a 'Ceol Music', but just the same old tired Leapin' Leprechauns and Molly Malone's and utter crap.
later
There's a radio competition on, and the contestant is given one minute to name anything Australian. Couldn't think of anything important, not even a kangaroo. About right.
Saturday 22/7
11:04am
A staggering number of people in Upper O'Connell and Westmoreland Streets. Tourists, locals. Still, we're in Bewleys , and while the smoking areas are pretty well wall-to-wall people, the non-smoking area - the favourite - is practically empty. Had our choice of table. The one under the stained glass, naturally.
Damn, all the pubs are shut. The Long Hall, the Stag's Head, Molly Malones, O'Neills, The International, The Crane, The Oak, and Thomas Reads. They open as soon as the churches shut. Nearly enough to make me go and buy a cheap cask of red from Dunne's.
6:31pm
Around St Stephens Green, there's art adorning the railing fences. It's all crap. A kilometre of crap. No, not art, but picture making by picture makers. They create the works with an eye to the tourist market. Their premise is based on a compromise from the beginning. Why would anybody want a really bad drawing of Bob Dylan? Why not just go down to HMV and buy Blonde On Blonde, it costs less.
And there's schoolkids, a flotilla of Spanish ones, flowing along the street, all with their purple and yellow backpacks. One kid has a Hughes & Hughes plastic bag on his head. His parents have probably scrimped together thousands of pesos so he could do that.
8:35pm
Rasharkin. Somewhere near Rasharkin is Glen Bolcain, which is where the madmen of Ireland spent their year in madness, and where Mad Sweeney spent time.
late
On the balcony. There's a redhaired woman below me, in black, buzzing someone's apartment, demanding to know "are you there?" of someone who obviously was. She's let in. I reckon someone's been dialling the numbers from the last few pages of In Dublin, and she's one of the tarts who always seem to be named Sonja. Schoolgirl Sonja. Madame Sonja. Nurse Sonja. Mother Superior Sonja.
Monday 24/7
12:07 pm
To the men on this bus, the 59 to Killiney, the driver is Wally. To the women, he is Walter.
12:40pm
Killiney Hill.
The one with the strange stepped pyramid. On a clear day, apparently, Wales in visible from here. There's the Martello Tower, a small red and white lighthouse, the Queen Victoria obelisk. And down there, the DART train looks like some kids' electric toy. And if you look really hard you might see Bono's house. It's on the Vico Road, if you didn't already know.

Sam Beckett somehow got the inspiration for Waiting for Godot up here.
Later
Walking through a damp forested area, on the way down to the Vico Road, moss hanging off trees, just like it should. Vico Road, and up to Bono's house. Security cameras in place, one above the security door buzzer, another attached to a tree. Climbing a stone fence to get a view of Bono's backyard. I don't think he's home, otherwise he'd have undoubtedly invited us in.
Then down, passing 'Strawberry Hill', which I think maybe The Edges place. Smaller, with a brilliant bay window, with stained glass. In another window, a wooden music stand, where he probably sits and learns a few more chords from his Guitar Chords book.
Further down, the block of flats where Neil Jordan lives, Liam thinks he saw his daughter. Pity he didn't pop the question on the spot, you've got to get into the business somehow.
Then into the town, The pub where U2 probably hang out with Neil, the pizza place they probably order their Seafood Deluxe from, the video shop they probably rented Reservoir Dogs from last night.
10:45pm
Reading more from 'The Road Wet, The Wind Close', still haven't managed to grasp exactly why Niall of the Nine Hostages is so important, or who the hostages where. Re-read the section on Patrick, and the fiction that is the Paschal Fire. Not that it matters, if enough people believe it, then fact or fiction is not a measuring stick of faith anyway.
Tuesday 25/7
9:17am
Museum. Met Nessa on the way on. The weather's grand. Yes, it is.
And what the hell is this ... pasted on my computer screen ...
"Read this carefully !!!!!!!
Put all new records into the new file AP950001 and check for errors
once there are 100 records typed in. Then pass the records to the master file.
For instructions contact Nigel Monaghan and consult the new manual.
Strike a key when ready"
what 'new manual'? Haven't even seen an old one, let alone consulted it.
Wednesday 26/7
9:50am
Museum
"That was just a test, Mark, in case you were worried," says Alan, after the Fire Alarm sounds. Had my stuff packed up and movin' on out, leaving the Westropp's to burn, contemplated shoving the Egyptian boat into my canvas bag on the way through, then contemplate a quick sprint to The Treasury, smash a little window pane, and save the Tara Brooch and the Ardagh Chalice.
Later
to Leeson Lane, take the tubs, and a 'Reach' toothbrush, begin cleaning an individual, a 7 bagger, hands, ribs, skull, vertebrae, pelvis, clavicles, bits of arms and legs. Took a few hours. Taking the plastic bags and unloading their entire contents into the muddy water to save time, no longer really caring if a vertebrae gets broken, nor even if a finger bone should happen to go down the sink, or if a pelvis crumbles. It's all the same, boring and monotonous. Makes me think of archaeology, and today I redefined what the discipline really is, other than a total wank, archaeology is not the study of prehistoric man-made artefacts, archaeology, damn, had the perfect phrase in my head but now it's gone, but I just about had a perfectly logical and reasoned argument along the lines of archaeology being for people who cannot handle mythology, who must debunk the romantic. Did Christ walk on water ? ... as it says in "The Road Wet .." Did St Patrick light the Paschal Fire ? .. If enough people believe it to be true, then it is, it's an article of faith. When does faith cease to be true? I've seen Merlin's grave, and King Arthur's Glastonbury, and they were far more real than anything they didn't find in Martin's field down in Ballingore.
Museum, and yes, the soap is safe. Westropp, book 21, scenes from Kerry, from Sybil Head to Derrynane.
11:28am
At morning break, stories about sleepwalking, and Ned's father beating back the leprechauns he believed he could see, the one's who'd come to take his ill brother, Frank, away, and another story about the woman down the road who' put salt in the baby's carriage so the fairies wouldn't replace the real baby with a changeling. On the way back to the desk, decided to detour via The Treasury for yet another look, but the throngs around the Ardagh Chalice was offputting, I'd have had to have beaten them back with St Pat's Crozier to get to it.
1:05pm
And as I'm leaving the museum, fluke upon the copies of Emania, and the volume referred to in the bibliography of Pagan Celtic Ireland. Hope the articles on Cruchain have more than the other two did. But it's written by archaeologist, whose raison d'être seems to be to kill romance and imagination and mystery.
1:51pm
Leeson Lane.
Managed to finish another 'individual'. This one amounts to a few long bones, some broken smaller bones, and that's about it.
2:25pm
The article from Emania in not too bad, actually. Maybe those archaeologists working on Cruchain have been a bit touched.
6:30pm
Waiting for Liam. Outside the Museum. Over there is the statue of the Archbishop. William Conynham. Fourth Baron Plunket. Archbishop of Dublin. 1884-1997. He stands, a hand against his chin. Thinking thoughts. Maybe about how the 'dear, dirty Dublin' has lost a lot of its dearness through its dirtiness, about the kinds of people who sit on the plinth of his statue and leave behind their Abrakebabra wrappings and their Coke cans.
10:45pm
Wonder if I need the passport for tomorrow's journey to Belfast.
Friday 28/7
7:58am
And, at the last moment, Liam's on the bus to Belfast too. Two grey-haired old yobs grabbed the front seat.
It's not a Bus Eirann, it's an Ulsterbus. Managed to get a child ticket for Liam, £4.75. I lied.

8:01am
Moving. Liam's hoping we'll see something exciting and life-threatening. Suppose it would be kind of cool,
but I'd like to survive to tell the story of our narrow escape.
Summerhill, North Circular Road. Cat and Cage. On some kind of 'dual carriageway' that they're so proud
of. Not for long, though, kind of petered out.
This must be a Belfast bus as that's the second red light we've gone through. Maybe it's the first rule of
Belfast driving, don't stop.
Dublin Airport, more passengers. 157kms to Belfast.
8:41am
Balbriggan. Bridge Street. The Milestone. 14 to Dublin.
Country Meath
8:55
Drogheda.
Corrigans. 21 to Dundalk. Monasterboice Inn.
9:15am
Ardee is signposted well enough. 100k's to Belfast, 66 to Dublin. Kilsaran.
9:21am
Castlebellingham. Tom Heaney Bar.
9:30am
Dundalk. Jimmy's Lounge, and P McIntyres has a 'large selection of all styles' in footwear.
"Oh Christ," mutters the second last on at the Dundalk stop, seats must be at a premium, who know, maybe he got lucky and had to sit next to the gorgeous one in black.
9:41am
Maybe I'm getting a different view from the driver, but I swear that's the fourth red light that's been ignored.
On the left, the Mountains of Mourne.
9:47am
The mountains are mist-covered this morning, or maybe they always look like that.
9:51am
'Money Change'. Pounds to Sterling. And a 'Free All POW's' sign.
9:55am
'Photographs must not be taken' at the old border crossing check.
Newry, and despite 'Goodfellas' everything I've read about Newry, bland and boring and grey, is true.
10:01
Break in Newry. Five minutes. Graffiti, 'Get Well, Damien'.
10:13am
A Union Jack, flapping from a roof. The guy behind us, explaining the different accents "say if you went doon to Caulk, or t'Gorlway, different from Doublin'".
A town on the left, Banbridge?
10:35am
Dromore's off somewhere to the right. And it's a light drizzle out there.
10:42am
Strange tower, looks inverted, supported by wires.
10:43am
First MacDonalds in Northern Ireland, and it reminds Liam of Australia. Pretty boring.
10k's, or maybe it's miles, to Belfast.
10:52
The edges of Belfast.
First mural, a hand.
Grosvenor Road.
Glengall St.
Here.
And within 10 minutes of being in Belfast, I'd bought Liam the R-rated version of The Crow, from HMV. I doubt I'd be able to get the smile off his face with a jackhammer. Walked Donegall Place, and Royal Avenue, to the Crown Liquor Saloon, but every snug was full, and outside, the security cars in the streets, grey, seemingly travelling in pairs, their lights and exhausts wrapped in wire mesh. To High Street, the clock tower leaning, to the Lagan River, the H & W David and Goliath cranes in the distance, to St Annes Church, a bit ho-hummish, signs warning against leaving cars unattended, to City Hall, waiting in the foyer until the tour began, the dome 173 feet high, the marble angel, now up on the first level, looking down on a couple with their green-dressed bridesmaids being photographed, then looking up at the Dome. Tours of the paintings, Lord Mayor after Lord Mayor, then the red mayoral robe, which I try on, and at the end we're given the free booklet which, we're told, will answer all those questions we've always wanted to ask about Belfast City Hall.
3:45pm
Back on the bus. Our feet are tired. There's a gorgeous goth a few seats back, skinny legs and all, who has Fields of the Nephilium' written on her canvas bag, and black from her bra straps to her Doc Martens.
4:59pm
Back in the Republic.
5:53pm
66 k's to Dublin, and over there on the right, in the distance, smoke. Maybe the Pagan Celts have returned. Maybe the descendants of Laoghoire have come to put to rights the oversights of their ancestor. Maybe they've relit the Paschal Fire, and are now toasting St Pat. Maybe the old gods live again. Probably not.
6:03pm
Drogheda.
6:25pm
There's a German tourist on board, who has not shut up since we left Belfast. Now he's talking about some atrocity he believes was committed by the English on the German people during World War 2. What crap.
7:10pm
The busaras. Finally back.
Saturday 29/7
11:45am
Fianna Eireann : National Insurrectionary Scout Body.
Found that piece of information in an Irish-English dictionary at The Dublin Bookshop on Grafton Street. Saw the badge for them at Family Heritage, on Fleet Street, but didn't want to buy it until I knew what it meant. The guy behind the desk was kind of dismissive, telling me it meant 'Irish Republic'. No, it doesn't, you wanker. I'm not a tourist, so don't tell me bullshit.
12:40pm
Down South Great Georges. Where the girl queue is forming outside Tower for the appearance of Boyzone at about 5:00 this afternoon. And, if you're thinking about nipping down there to get your Boyzone T-shirt, book, poster, or CD signed, then forget it, as they'll only be signing the new CD single, whatever it's called. So, you've got to pay your £4.99 first.
1:50pm
The Boyzone queue is lengthening, being kept orderly by rather large security men in black. Any of these 12 year olds would be down on their knees in an instant for any of Boyzone, braces, rubber bands, and all.
Liam and I creating scenarios. Heading down to Tower at about 5 to 5, and begin rumors that Boyzone have cancelled, that they've decided to go to Cork instead, or that their bus broke down in Drogheda. And naturally, they'd riot, and take it out on the windows of Tower itself, the burly security guards overwhelmed by the outrage of preteen anger, being no match for the preteen fury of gnarling braced teeth. Just have to go to the Tower Security In-Store Video and pick out the rampaging individuals. Yep, thousands of screaming harpies loading up on Take That, East 17 and Boyzone singles in the smash-and-grab, a massive looting effort. But, what's this then, who's the bald guy filling his pockets with Chieftains CD's, and how's that kid in The Crow T-shirt putting 'The Name of the Rose' in his pocket. And, hey, turn up the sound, catch what the old one's saying, it's something like, "Da, we should get Michael Jackson's History for Shannon", and the reply being "Yeah, where's the harm ?"
4:19pm
The Long Hall
At last, feel like we've finally 'come home' from the holiday.
6:30pm
And Boyzone are about to leave Tower. Outside, the die-hards are frantic. Weeping into their Boyzone headbands. Liam looks through Tower's window, and catches an glimpse of the one with the stupid eyebrow. The security guards look ragged, one of them screaming at some boy that he'll kick his arse if he does something again.
They're leaving now, and the high pitched scream goes on and on, their tour bus is surrounded, there's police directing traffic, eventually signalling drivers to pull over and just wait, the hordes are running after the bus, hopelessly. Eventually, it turns up Stephen Street, and it's gone. There's one girl, in a red top and carrying a black backpack, crying, being supported by two others. I wonder if she got the autographs. I wonder if she'll look back on that moment, later, and remember it as a zen moment, a highlight of her life, that she'll remember forever in all it's emotional glory, or maybe with some kind of bemusement, appalled, maybe, at how as a teenager she was so easily taken in by this plastic, commercially-hyped, talentless, band.
Chapelizod.
Mullingar House, and over the bridge to Chapelizod Hill. The house that's been for sale, the one with blue trim on the windows is still unoccupied. Maybe they'll sell it to me cheaply.
Over to Phoenix Park. There's a herd of deer. Is 'herd' the right word for multiplicity of deer? A pack? a horde? a mass? mess? Don't know.
2:29pm
'Pope John Paul II offered Mass at this place in the presence of more than one million people on 29th September 1979. Be converted every day'.
But now, the 30th July 1995, the fields where more than one million people stood, or knelt, is taken over with deer and few people flying kites. And, beneath this massive cross, Anthony, Melinda, Alan, Smithy and Nirvana have left there names in texta.
a bit later
Passing Mary's house, the light that's left on permanently. Thinking about dropping in, saying "just passing, saw your light on, we don't eat much", but the security would probably sort me out rather quickly, wouldn't even get the smell of a cuppa, let alone a lamington.
a bit more later
Down around the zoo. Didn't get to see the legendary crocodile, but did see a sealion and an elephant, and the noises of other critters. Best of all were the stalls outside, selling an amazing array of plastic kiddie junk. So all the single parents that have custody of their kiddies on the weekend can load 'em up with wallet-bought affection. There's plastic swords, sunnies, handcuffs, weird tinselly things and more.
9:15pm
Talk back radio. Some woman talking about her 'blind date'. Middle aged giddiness and "he had black hair", swoon swoon, but no, he didn't invite her back for that cup of coffee, and she doesn't do that sort of thing anyway.
St Michans
The tour, the wooden 'masterpiece' of the 17 instruments, the organ Handel may have played. The other stuff, then the mummies in the basement, St Michan's main attraction. Around the side, the guide opening the black trap door, then we're ushered in. One vault with the stacked coffins, the next with four bodies, the noon, the footless man, the other woman, and behind them, the tall Crusader. Yes, you can see the fingernails and toenails of the nun. No, you can't shake the Crusaders' hand anymore.
Something about all this got right up my nose, and it wasn't the dust. That these people deserve a better fate than being a ghoulish tourist attraction for some otherwise fairly nondescript little church. Why weren't these people re-coffined after they 'accidentally' broke open. Why aren't these people in a museum ?

5:35pm
St Stephens Green
Over there, by the lake, are two little girls in their prettiest party dresses who's mother is uselessly telling them to come away from the edge or they'll fall in.
7:32pm
There's a single mother in one of the apartments below us. And she's visited by an older man, who drives a Volvo and has a tattoo on his forearm. Tonight, the old man had a younger girl with him. Maybe the mammy can't handle the disgrace of an illegitimate grandchild, so, after she was forced to leave home, it's only the Da and the younger sister who come to visit, to hold the grandchild or nephew, to take it for walks in the pram, around the block. Maybe the Mammy will relent and come to visit sometime, when all is forgiven, and she'll probably go all weepy at the time she's lost with her daughter and grandchild, and make noises about what a stupid old woman she's been. Both the Da and the daughter will reassure her that it's all right now, but secretly thinking yes, you have been bloody stupid, Meanwhile, it will all be incomprehensible to the younger daughter, but, on the other hand, it may be a Zen moment for her.

8:38pm
Whelan's. A Kevin Burke gig. Inside, at the bar there's a statue, of a man drinking, just staring into his Guinness. It's brilliant. I've seen it before in a photograph, in Q Magazine, something to do with Roy Harper.

9:40pm
He's on, excuse me while I go into bliss-out mode, even if he's not wearing the cap he wore on the cover of If The Cap Fits.
nearly midnight
And that was a good gig. The Irish stuff was the best, naturally, and Sandy Silva was great to watch, the flying silver shoes. The songs, the classical Greeks, their brains were small and they died, monkey with a typewriter, Oedipus Rex and John Wayne, Yiddish tunes, a Venezuelan waltz.
Jaysus, I've seen Kevin Burke, another legend.