Disquieted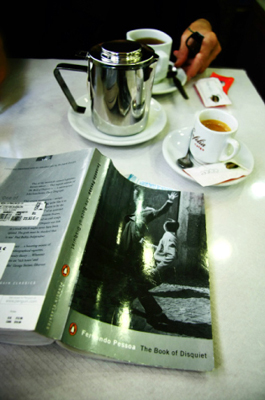 And someone precious once lent me a copy of Fernando Pessoa's 'The Book of Disquiet', and like quality absinthe, it's definitely a book to be taken in small doses, a delicacy best tasted by taken in only a few pages at a time, but since finishing it, I've had this urge to visit his home town of Lisbon, sit in his café's and bars, and pretentiously read him aloud there, and perhaps find a barber and have my hair cut there as well.
Pessoa writes on the first page that 'sometimes I think I will never leave Rua dos Douradores. Once written down, that seems to me like eternity' and then 'I stand waiting for the stars to begin at the window of this fourth floor room that looks out on the infinite' which gives me some good clues where he might be found, and the Rua dos Douradores being close enough to the Bainxa/Chiado metro station, easy enough to get to, on either the green or the blue lines, and a little later 'yes, for me Rua dos Douradores embraces the meaning of all things, the resolution of all mysteries, except the existence of mysteries themselves which is something beyond resolution', and although visiting the street itself cannot simplistically resolve those mysteries, the resolution itself does not matter much. But I've already read the barbershop sequence on page 6, aloud - on the Belgrave train from Flinders Street station after buying my own copy from the Readings bookshop in Carlton, and not caring who overheard, in fact I was only reading it aloud for the benefit of my fellow passengers anyway, beginning 'the dull old man with dirty gaiters I often used to pass at half past nine in the morning. The lame lottery salesman who pestered me without success. The plump, rosy old gentleman with the cigar, who used to stand at the door of the tobacconist's. The pale-cheeked tobacconist himself. What has become of those people who, just because I saw them day after day, become part of my life? Tomorrow I too will disappear from Rua da Prata, Rua dos Douradores, Rua dos Fanqueiros. Tomorrow I too - this thinking and feeling soul, this universe I am to myself - yes, tomorrow I too will be someone who never walks these streets, someone others will evoke with a vague: "I wonder what's become of him?" and everything I do, everything I feel, everything I experience, will be just one less passer-by on the daily streets of some city or other', and lordy I loved that, knowing that I too will someday possibly be someone else's vague recollection, but if the other passengers in my carriage didn't, then it's their loss, they should have been laying garlands at my feet, but they didn't, and not one of those ingrates even asked who it was that I'd been reading from.
Pessoa also mentions the grocer 'on the block between Rua da Assumpção and Rua da Victoria. He's the Caesar of the whole block' on page 15, although at the moment I'm not entirely sure of where that block might be, exactly, but if I should meet this particular Caesar then I shall buy two apples and a lime. Nor do I yet know of the 'Rua do Arsenal, Rua da Alfandega, the sad roads that lead out to the east where the Alfandega ends, and the long solitary line of quiet quays: they comfort me with sadness on those evenings when I choose to share their solitude' that straddle the pages 22 and 23, but walking roads defined as sad will always sing their siren song, and I will seek them out, and ponder the nature of their sadnesses, wether they be melancholic or in total and complete despair, and the clouds written about at length on page 33, that Pessoa describes as being those disembodied pieces of heaven, and I shall photograph these pieces of heaven as they may recompense for the photographs I never took of the seven kilometres of road that was made by angels linking Nájera with Azófra, on the Camino in northern Spain, the angels that earnt a sainthood for Santa Domingo de la Calzada, but I shall definitely walk this heaven-sent street, and photograph the Rua Nova do Almada of page 40 and hopefully some descendent of the ordinary man will be there, just as you looked at the ordinary back of a head of an ordinary man in this ordinary street for whom you felt some tenderness merely for being so ordinary and unthinking, and the unnamed café in the unnamed street on page 49 from where Pessoa looked tremulously out on life from it's terrace (I suspect some café in the Rua dos Douradores itself), a pity, as he could have been looking tremulously at the brighteyed waitress who brought him his afternoon coffee instead, and with a few clever words Fernando might have charmed her completely and perhaps even not have died the virgin that he did, and it may be the same blackclad waitress in the same café who provided him with the white sandwich wrapping paper to write on, although I cannot ask for sandwich paper to write on, as I don't yet know the Portugese for either of those words, nor any words that might charm our waitress. So perhaps I will merely ask for another coffee, por favor, and later, I shall attempt to photograph the sunset of page 72, after yet again sadly failing to proposition the paperbringing waitress with whom this sunset could have been shared, perhaps not being able to find the right words or anticipating that the prospect of rejection too humiliating a prospect.
Walking leisurely down Rua da Alfandega towards Targus and as Terreiro do Paço opened out before him, seeing the sunless western sky, and the next page feeling nostalgia overwhelms Fernando like an opiate and, like religion, is indeed a fine grade of opiate, then mentioning the greatest traveller he has ever known on page 76, the office boy who collected everything, including 'brochures on the sailings between Portugal and Australia' and I think I should like that tremendously, imagining maybe six weeks of sailing, calling in at foreign ports often enough, although the idea of a deck chair and a suitcase full of books to read while being entirely surrounded by a horizon of ocean, and perhaps some fine art paper and a handful of drawing greylead pencils, and my reflecting aviator sunglasses, and occasionally taking walks from bow to stern and back again, and perhaps think on 'we can never disembark from ourselves' as is written in page 78 is absolutely true, we cannot escape ourselves, just as Sartre's Egyptian, despite having lived in Paris for twenty years is not only still thought of an Egyptian but is still Egyptian in his head, but within just a few pages reading your idea that 'when other travellers visit countries, they do so as anonymous pilgrims', and this is said as though it was a bad thing, but with all apologies, Fernando, right now I can think of nothing I'd rather be than some anonymous pilgrim walking again along some seemingly endless dusty road towards some distant town and enjoying the sound of each footfall, even an anonymous pilgrim who might be naturally fearful of the black sky described on page 85, pilgrims necessarily being more tuned into the elements than most others, and also more appreciative of those beautiful Sunday mornings such as you describe on page 88, that Sunday which leads you to the church of Sao Domingos with it's congregations coming and going and where you remember attending mass as a child and it was like penetrating a great mystery, but soon enough in the market of Rua da Prata where you consider the implications of buying bananas, but should I ever walk the Rua da Prata, perhaps as some anonymous pilgrim, then I will buy a few bananas, but probably not consider the deeper implications of the exchange as you did, nor think on it's metaphysics, nor will I stand for hours in Terreiro do Paço, lost in some meditation 'on the eternal insatiability of my vague desires and on the perennial instability of my impossible longings' of page 93, while the jetty, the evening and the rank sea air all formed part of the anguish he writes of, and while I can only conjecture your impossible longings, in deference to them then perhaps I shall be more inclined to appreciate that 'the general aspect of the square is of a kind to give a very agreeable impression to the most exacting of tourists', and although I am pretending to be an anonymous pilgrim and not the exacting tourist addressed in your guide to Lisbon, then perhaps I should sing whatever words I can remember from 'the impossible dream', speaking of impossible longings, instead, which may not amount to much more than:
"to dream the impossible dream, to fight the unbeatable foe
to bear with unbearable sorrow, to run where the brave dare not go" ..
And whatever comes next will probably slip through the mental cracks entirely, those cracks perhaps being some kind of divine punishment for my being more familiar with the Alex Harvey version than the original from Man of La Mancha, but both versions are probably as far removed from Fernando's meditations as it's dialectically possible to be anyway, but only a few pages later, he's singing the praises of 'the sordid skyline of the houses, the unwashed windows of all the offices in the Baixa and the empty windows of the top floor apartments and, above them, around the garret roofs, the inevitable washing hung out to dry in the sun amongst flowerpots and plants', which all sounds terribly charming to me, and probably closer to my idea of the impossible dream than Pessoa's is to him, let alone the cheap cigarette of page 95, which I could smoke while photographing those unwashed windows and all that drying washing pegged out, and the brief moment on page 96 where he imagined himself to be someone else, and was happy, drinking, eating and laughing, but then two pages later pondering the metaphysics of God himself as revealed through the blue eyes of a calendar lithograph of a woman holding a primrose, revealing an essential sadness within, and on page 105 mentioning being overwhelming by the aroma of the bakery, et si, I will have dos croissants por favor, and of fresh fruit, et dos banane por favor, and the scent of wooden crates, and perhaps we shall eat the croissants and bananas on the tram journey, the one Pessoa describes on page 113 where the journey is spent contemplating the green dress of a female passenger as though her dress was a primer on political economy, although, should a similarly dressed passenger be on our tram, I shall most likely be considering the shape beneath that dress instead, my knowledge of political economy not being my strong suit. But I shall maybe think on his statement from page 120 that 'tedium is the lack of a mythology', for I have my own personal mythologies endlessly being carried around in my head, a mythology being endlessly added to, a weaving of sorts, with some threads stronger and more brilliantly crimson than others, but all there, of those with whom I have crossed paths, and one of those brilliant threads is shared with Fernando on page 125, when he writes of cigarette smoke that 'subtly rebuilds past moments', and given my nearly lifelong affair with them, they are more than a single strand, trying to remember all the names of those with whom I have shared cigarettes, but though they are legion, I still care about them all, and then the potent image of 'the posters pasted one on top of the other on the walls' mentioned on page 129, even if I endlessly photograph such layered posters, I would trade them all for some girl, perhaps the waitress from the unnamed café, who'd be willing enough to pose smoking a single cigarette, hundreds of shots taken during the seventeen or so inhalations it takes to smoke one, already imagining that smoke writhing beautifully upward from a red and perfectly lipsticked mouth. Perhaps Pessoa would have as well, had he a camera, perhaps he did, perhaps he just didn't mention it, perhaps he would have photographed the wooden floors and paving stones he mentions on page 131 and somehow also managing to photograph the metaphors of both the masked and unmasked men of page 132, maybe he has photographs of his young mother who died when he was one but who has been pretty and the father who suicided when he was three and written of in page 135, although my mother died when I was thirty-two and my father still lives a life, of a dementia affected sort, although Fernando's story isn't quite that of bernardo soares, the protagonist of our book of disquiet, as his father died of tuberculosis when the young Fernando was five and his mother remarried some time afterwards, but what he writes on page 137 is true enough, that 'no anguished sense of the mystery of life hurts like love or jealousy or longing', and I will take a large mouthful of jack daniels and hold it there for a few seconds before swallowing it, and almost feel myself weeping at an inestimable sense of loss for something gone that I'll never have again, and on page 138 he writes of the young girls seen on the street who would never be his, and of how he is the prose he writes, of how he is the madman garlanded with dried flowers, of how he is the sawdust-stuffed doll, and on page 139, how he becomes some character in some book, a character then destroyed through a rewriting, of how he is a playing card remnant of some otherwise long lost pack, and somehow I'm imagining that Fernando would never have been the Jack of Hearts, perhaps the Eight of Spades, and on page 140, of how he is a discarded rag, he writes of the vast theatre of his dream life, before 'life intervened. That night they took me to have supper at the Leão', the Lisbon café apparently frequented by intellectuals, and I'm wondering if the Leão still exists, if that be the café with the bronze statue of Pessoa himself enjoying his café con leche on the terrace, but no, it is not, it's outside the 'A Brasileira' café, to which I'm terribly tempted to add a texta'd moustache, or perhaps it's a red wine he's so determinedly and bronzedly holding, but if the café still stands, then perhaps the Leão will be the Lisbon café in which I shall pretentiously read Pessoa aloud, the section on pages 5 and 6 which tells told of the death of the old barber, or perhaps, if the Leão no longer exists, I shall have to visit a barber instead, un dos por favour, but maybe by then I will have learnt enough Portugese to talk a little with the barber, perhaps about the current state of the Portugese football team, or the weather, but most likely not, and most likely I'll never have the words for those social obligations mentioned on page 148, going to a funeral, discussing whatever matters need discussion at the office, going to meet someone at the station, nor the words to talk through why 'the constant object of my close study is precisely that vulgar humanity, I love it because I hate it', yet, a few pages later, on page 151, he writes, simply enough, that 'I've never loved anyone' and a little later that he would despise anyone capable of loving him for their obvious lack of any aesthetic sense, but not as much later as Fernando saying of himself that 'I am nothing but an abstract centre of impersonal sensations', at which point, if Fernando and I had been drinking whatever Portugese-for-beer might be then I'd have suggested his visiting some brothel between here and there and gotten himself a headjob from some sad-eyed beauty where his sensations would be of another kind entirely, and not much caring if that makes him relatively happier or not as he writes of on page 151. I'm guessing that 'happiness' is not much of a sought-after abstract noun in Fernando's world, the desire for which is not the end point reached through intense philosophical discussions, but something else, and on page 155, argues that 'to be loved has always seemed an impossibility', and I'm wondering about love itself, and why does it dies in the mouths and hearts of the loved.As sadly, on page 156, he says that 'whenever I have loved, I've only pretended to love', and I'm not quite sure what this means, exactly, do we love who the person is, or what the person is, or our understanding of who we imagine that person to be, perhaps she was right that I did not love her, that I loved something else, a fictional construct of my own creation, then again, I may have been a fictional construct for her as well but I daren't asked, as she might tell me something I wish I'd never known, but for the next half-dozen pages, Pessoa pontificates on the nature of love, which is perhaps a little too much like a virgin describing her first good fucking. But later, on page 174 he writes of 'the longing for impossible things precisely because they are impossible, the nostalgia for what never was, one's bitterness that one is not someone else', about which I could probably write, free associate, tell stories until I wept, so perhaps I should just have a good weep now and get it over with, 'scuse me just one moment.
Nope, sorry, couldn't do it, all apologies, couldn't manage to work up even so much as a single, solitary tear, meaning they'll probably happen later, but hopefully not at Ruby's Bar and Lounge, as Kaki King is playing, although I could always pretend her playing shifted something emotionally south within me.
And, on page 178, we get the word 'disquiet' itself, and as the book is 'The Book of Disquiet', then I'm hoping all will go quiet after the word has been introduced to the audience, and, much in the manner of a standup comedian, or some poet (not that there's any difference at all), and hopefully he's about to begin some kind of monologue on the nature of things, using itself as the basis for it's observations, it's own delightfully quirky interpretations of the world and it's words, and all will be made clear, 'the disquiet aroused by the mystery of life', and if 'disquiet' was a high cheek-boned Parisien of some Algerian descent, then those in the front row are lining up to have disquiet's babies, 'the mysteries of existence' he continues, but not quite defining itself, but slightly moving sideways to sing the praises of all things tiny and seemingly inconsequential, a solitary stone in the road marched on by a victorious army, the solitary pin in the ribbon roll, but soon enough, on the very next page, Pessoa writes that 'Where did I find the strength in my solitary soul to write page after lonely page, to live out syllable by syllable the false magic not of what I was writing but of what I imagined I was writing', leaving 'disquiet' still standing on his stage, perhaps still facing that expectant audience, but now humiliatingly wordless, and now quickly changing the subject on page 182 to the topic of death, 'What is art but a negation of life' he asks, apparently quite seriously, and not really wanting an answer, 'never to know if God exists' he asks again, perhaps providing a nice quote for those students enrolled in philosophy 101, who'll endlessly and uselessly debate the same question, and on the following page telling us that we should be nothing, have nothing, want nothing, which, if Fernando and I are having a second whatever-the-portugese-is-for-beer down here in the bar, then I'm assuming that he's relying on me to pay for all the drinks on this fine and dark night, and he's smoking my more expensive cigarettes as well, bastard. But wait, while he's drinking himself into a pleasant state as someone else is paying for it, and all that cigarette smoke is undoubtedly affecting him in terms of raw emotional recall, he's begun, on page 184 to define exactly what knowledge is, and this had better be good, Fernando, this had better be worth it, as to know something for certain puts you in the same league as Socrates, and without putting too fine a point on it, Socrates is a tad better known that you are, or ever will be, and roll up, bang the drum, and for one night only, folks, the world's greatest philosopher in the red trunks up against Portugal's best known poet in the blue, which almost seems like a non-event, a foregone conclusion.
And Portugal's best known poet lands the first punch, with:
'To consider our greatest anguish an incident of no importance, not just in terms of the life of the Universe, but in terms of our own souls, is the beginning of knowledge. To reflect on this whilst in the midst on that anguish is the whole of knowledge' ..
And rather than describe the fight, when Socrates comes out swinging and demanding definitions of at least half a dozen terms just used, it might be best just to wait a while, and perhaps clean up the blood later, while accepting that none of it really matters anyway, if Fernando actually believes that reflections on anguish are the core of knowledge then fine, I don't care that he's wrong, he can dance his little dance and sing his little song, and swing his little fists and then the Socratic technique will take him out easily enough.
At least I'd hoped so, until I read on, and on page 186 there's him saying that 'In order not to demean ourselves in our own eyes, it is enough that we should become accustomed to harbouring no ambitions, passions, desires, hopes, impulses or feelings of restlessness', and maybe it's true, maybe Fernando's nailed it exactly, exposed all pretence to otherness, being the truth, the whole truth and nothing but the truth, apparently, but somehow I don't think so, as at times my entire life seems nothing but a lurching, an almost drunken procession of passions, desires and hopes, and 'sober courtesy in the banquets of our thoughts' is necessary for the aesthete, sober, fuck!, I think not. Release the thoughts! Release the fuckin' bats! And my hard fingered rendition of 'Me and the Devil Blues' on this steel guitar is going to loosen the undies of those wives and girlfriends in the front row, bottles of red wine will be drunk, and large nips of vodka will be mixed with redbull, and blood will probably be spilled and you might not be able to explain the yellowing bruises tomorrow morning and I will laugh sarcastically at the at the finely wrought pretensions of poets, as a rose is not a rose is not a rose.
Then, on the very next page, Fernando feels it necessary to rise to the defence of poets, maybe because of me just having called them pretentious, but even then I was being kind, 'whining and pretentious little cunts' is the more appropriate descriptive term, but I'm making an effort to be reasonable, which is a much overrated requirement anyway so I'll refrain from calling some whining little cunt of a poet a whining little cunt, but Fernando's argument runs something like this:
1. The smile that non-poets and non-artists bestow on poets and artists is not one of condescension, but an 'admission of conscious doubt'.
2. This conscious doubt is an acknowledgement, of the 'superiority' of those professions that use dreams as their raw materials ..
3. 'it's the dreamer who is the true man of action.'
4. Thus, every smile and smirk endured by poets and artists is to be read as something else entirely, perhaps as some kind of salute, a tip of the hat, an acknowledgement ..
And I'm assuming than that for an encore, our action man will slip his hand down his own undies and feel himself up before wanking like a man possessed on behalf of the poets, artists and whining little cunts everywhere, and somewhat interestingly, soon enough Fernando acknowledges that 'I can't look reality in the eye', whatever reality might be, but which seems screamingly obvious, but there's arguably an occasional truth even in the utterances of madmen, perhaps even in those of poets.
But to continue, and ignoring the supporting statement on page 190 that he says of himself that he doesn't 'speak the language of reality', before spending the next few pages outlining the substance of his dreams, perhaps, down here in the bar where I again appear to be buying all the fuckin' drinks, I might tell him a few of mine, but I doubt he'd be at all interested, and if there's a shred of truth in the entire book then it's in his descriptions of unease and discomfort, a disquiet, that he feels in the company of other human beings, and that he'd rather be left alone, well, sorry, Fernando, as I'm paying for the drinks and supplying you with endless cigarettes, you may have to just feign being interested in something other than the 'liquid, sickly meandering of feelings as they crumble and rot' within you that are mentioned on page 191, not to mention those sweet juices of your own dreams as well, but some time later, during which Fernando has listened to me retelling of my own dreams, particularly the one where I'm managing to squeeze splinters the size of apricot pips from the ends of my fingers, that leave us both yearning for the 'cup of coffee, a cigarette, and the penetrating aroma of its smoke' of page 192, and perhaps we'll be discussing his observation that 'Imaginary figures have more substance and truth than real ones', an observation that is perhaps true enough, given the imaginary figures I have created over time, ones that have populated my stories, including Clementine of the Wondrous Clavicles who works at the local epicerie, Mao of the Chinese black market and his achingly beautiful almond-eyed daughter, poets who publish slender volumes of verse and who are incapable of refusing any unabashed forthright proposal, Louis who is a descendant of the Sun King himself and who passes the time playing checkers with his brothers, Pierre the Anarchist mime artiste, not to mention Gothchick the Raven-haired Wonder who always seems to turn up whenever I need her to, Tony the Carny with the flashing gold tooth and possessed of an unequalled rat cunning, and all those other residents of Rue Saint Denis all so willing to be photographed for they think they know me well as I can only pretend to be one of them, and all others who's stories remain to be told.
"I never knew loves so real, so full of passion and life as I did with the characters I myself created. What a shame! I miss them because, like all loves, they end …"
And perhaps I should tear out that page 193, and have it framed and hanging on my wall, this one thing that both Fernando and I know appear for certain, those ends of things, and if Socrates should appear, spoiling for a fight regarding our certainties regarding the endings of all things, then I'll need to deal him a series of unforgiving and vicious rabbit punches to his kidneys and spleen, and I'll clean up his blood from the floor afterwards. And later, as I walk with Pessoa through the streets of his Lisbon, perhaps he'll tell me again what I've already read on page 195 that 'My mania for creating a false world is still with me and will leave me only when I die', which, using hindsight, I will tell him will be on November 30th in 1935, but shall taunt him by refusing to reveal the exact manner of his death, tuberculosis at the relatively young age of 47, and wondering on the distance between the his first bloody cough and his last. But it's true enough, my own false world is far more real than mostly anything else as well, and maybe, as he stumbles home to his fourth floor apartment, to somewhere on the Rua dos Douradores, where he both lives and works, the address he assumes he will never escape from, but not being entirely sure if he ever really wanted to, the shuttered room that is his world, the alone of his professed preference, perhaps he will talk of other things, here, and I will just assume him drunk and rambling, but I will listen anyway, and agree with him as I have no idea who he might become when drunk, this was a man with self-induced psychosis, a cornucopia of multiple personalities, whose pseudonyms provide the bulk of Portugese writers, he will talk more of dreams, and of his created worlds, of the conceit that poets and philosophers occupy the apex of humanity, and although he's wrong, I'm not telling him (the apex of humanity is occupied by librarians), about the 'inner processes of illusion' mentioned on page 205, and how his objectivity is of the most absolute kind, and mentioned on the same page, and he will mention the realities of his generation a little later, those working during and after the First World War, when everything believed to be true was a fiction, and when everything that gave society its strength was destroyed, as he said just before incoherency set in and he's saying something about the cracks in the walls that they didn't even notice, but, God knows I love a drunk, so rave on my imaginary friend, tell me about God, and the humanists, and how the humanists rejected God, and how that was a mistake, as humanists believed in people, and how people are generally fucking stupid, and of how you decided you preferred the faith of Decadence instead, divine decadence then, bring it on, perhaps not the Dionysian type of decadence I'm imagining, but something else entirely, something finer perhaps, something that has some resonance with the intellect, in something to be had in 'an aesthetic contemplation of life' as explained on page 208, an aesthetic decadence, continuing that such decadence is incapable of taking anything seriously, leaving only feelings as the greater reality, if not the only one, and to accept that everything is flawed and imperfect, and finishing by telling me, on page 209, that you really don't give a fuck if anybody at all reads your words after your death, I do not believe you, but I'm just saying anything, it's not worth the argument, writers write not to pass the time, as you argue, but because they have to, the imperative is to get the words out of their heads.
And although there's another fifty or so pages in your book of disquiet, I've had enough for one evening.
A little later, and on page 210 Pessoa rambles on regarding the losing of religions, about how the massive loss of faith in his generation led others to try on other spiritual dimensions for size, but which he finds all wanting. Let it go, Fernando, just let it all go, and somehow, perhaps it was the wine, perhaps you're a little unused to the sheer quantities of the cheap stuff, but you've said something along the lines of 'We represent a painful version of the Argonaut's bold motto: the journey is what matters, not life', and you can recant if you want, but it's in print, so recanting isn't going to change much at all, the Argonaut's voyage may have eventually transformed into being about the journey and not the destination, if by 'life' you mean the same thing as 'destination', and I'm assuming you do, you're wrng, as it's not. In historical terms, the Argonaut's journey was more about ensuring the correct succession of the kingship of Jason's city state, Jason being set the apparently impossible task of bring back the Golden Fleece, his uncle having illegally usurped his father's kingship by dent of force and murder, the journey only proving Jason's worthiness through being subject to tests of various godly-designed kinds, and with Jason bringing back the princess Medea as well, another inevitability given Aphrodite's cunning plan, but that's an entirely other story, don't get me started on Greek mythology, Fernando. Okay then, get me started then, and see if I care, so, one twist of the Argonaut's voyage and we have the perfect metaphor for the idea of the voyage, but confusing 'life' and 'the destination' is a tad crude, an all too obvious twisting to your own seemingly nihilistic purposes, but yet a further twist yields another metaphor, a third yet another, some long forgotten historical fact involving the plunder of Colchis and suddenly stories are rife about the worthiness of the plunderer.
And lemmee see, 'Life would be unbearable if we were truly conscious of it', it's okay, Fernando, you don't have to whisper it, as the print on page 212 will remain the same, whispered or spoken or shouted or screamed, followed up with something along the lines of consciousness and unconsciousness, with a tip of the hat to Jung as the collective unconscious gets a token mention, but whatever the merits, I'm suggesting calling by the hardware shop, maybe the paint shop, and stocking up on spray cans, and tomorrow morning, Lisbon commuters will be reading "life would be unbearable if we were truly conscious of it" graffiteed endlessly on it's walls, it's railway bridges and it's streets, and any other place you think worthy of being targeted, but I'm suggesting Rua dos Douradores for starters, and yes, it may all be ultimately useless, but the risk might be fun, and as an idea, graffitteeing it is probably a better way to get it into the public consciousness than publishing. And with the red wine mentioned on pages 213 and 214, and, forgivez-moi, but I grabbed it while I could even though you sanctioned me against grabbing anything while I could, but I left the porkchops for someone else, and the girlfriend you mentioned, but never had, is still waiting on the street corner for someone better to come along, maybe the Caesar of page 5 or the young barber from page 6 or even the unmentioned waitress, but maybe we could tag along with the procession of gods from two hundred and seventeen, as there's a few issues with 'the bright divinities of the Greeks' that I need to discuss, although which bright divinities they might be is a little unclear, Hades not being the brightest, but for whom I'd buy a drink anyway, and perhaps a chat with Orpheus and suggest he might learn a few things, technique-wise, from Kaki King, although he'd probably reply that the last thing he needs is a drummer overpowering everything, and I'm wondering what Sartre would make of the statement 'To be is to be free' on page 217, and how far that sentiment is from Sartre's 'Man is condemned to be free' which if he didn't scratch it into the table at the Café de Flores with his trusty Swiss army knife, then he should have. Perhaps I should make recompense next time I'm in Paris, after likewise scratching 'to be is to be free' into some table at the Leão, and oh my, Fernando, let me sit back and consider page 218 for a minute or two, it's quite breathtaking, when the idea of love is examined, and the words 'i love you' written of as meaningless, and only spoken in some misguided attempt to gratify our 'own pleasure'. Fern, Fern, Fern, I'm thinking nobody ever told you, no-one ever whispered the words while you held them, and maybe the self-congratulatory lucidity here is simply an intellectualized bitterness talking, and you could not be more wrong, as if loving someone was merely self-gratification then love could never kill one's heart, but shall we walk on then, you and I, and you can tell me of your tomorrows, and how you will be different in each of your tomorrows, and ruminate on the differences between sleep and death, although the bright gods of the Greeks placed them as brothers, although I agree with your argument that the difference is largely being in the inability to wake-up from death, and we shall definitely talk about words, our favourite ones, and about that passages of prose you mention on page 233 that reduced you to tears, as there must be more than that single example given, but perhaps you'll remember those others as we walk through the 'narrow moonlit streets' of page 235, and yes, I shall not argue if you choose to scrawl 'Metaphysics is a prolonged form of latent madness' onto some brickwork that's just begging for it. And we shall welcome Socrates himself when he makes another entrance, this time into page 249, apparently quite well recovered but his chiton still carrying the evidence of the previous bloodletting, but he's quoting himself as an example of higher consciousness in that 'I only know that I know nothing', and perhaps we should take the opportunity to finish the job completely, and it shouldn't matter all that much, given that Socrates was already a very old man when he said it and only a few days prior to having to drink the killing hemlock anyway, or perhaps we could ignore him entirely, or maybe ask him for an absolute definition of what the verb 'to know' might be that is true in all possible instances, or perhaps we could just kick the fucker's head in completely, et naturellement, in the most aesthetically pleasing manner possible. 'Know thyself, Socrates!' I'll tell him, which may be the last words he'll ever hear before lapsing into unconsciousness not of the collective kind. And yes, the knowing thyself of the type described on page 250, the type that is far more difficult and dangerous than any of the twelve Herculean labors, there inevitably being 'always something that eludes us', and after leaving Fernando to the predictable failure of truly getting to know himself, and perhaps leaving him muttering 'like all of nature, I have failed', I shall walk to the Quays and find a comfortable enough park bench, and there uncork yet another bottle of red wine (although I do not know the Portugese for corkscrew) and toast the dark sky while lighting yet another marlboro, and contemplate what Fernando called 'The poetry of the twilight of disillusion', before finishing the last dozen pages of The Book of Disquiet, and thinking on all those moments of disillusion, and perhaps thinking on disillusion's relationship with betrayal, perhaps reading these pages silently, perhaps reading them aloud to anybody who'll listen, like a drunken madman harassing passers-by, before reaching it's final sentence on page 262 'nothing, nothing, just part of the night and the silence and of whatever emptiness, negativity and inconstancy I share with them, the space that exists between me and me, a thing mislaid by some god', and maybe it's the wine talking, but I shall press my closed eyes with the ball of my thumbs to kill the hot tears, before discarding the book entirely, into some whatever-the-portugese-might-be for garbage bin, and thinking it's time to move on, but not knowing if I'm ready to, just yet, maybe a little later.
and the Portugese for beer is
cerveja
..