Friday, July 5th
Aumont-Abrac
6:12am
There's other 'pilgrims' here who are really doing the breakfast thing in a big way. Sample cereal packets, yoghurt, tea, coffee. I've just had a quarter of a baguette and finished off yesterday's water. But I'll buy some instant coffee somewhere today, and some snacky stuff, as I've been told there's nowhere between here and there.
7:07am
Going under the Saintjacqueduct.
7:47am
La Chaze-du-Peyre
Met up with Ana again, she's slept in a barn, and apparently the farmer's wife kept bringing her strawberries and cream.
The morning walks are the best, and this morning, so far, has been easy. Behind me is the church, and Ana packs her stuff.
If I miss the gite, I'll get a hotel, as I'm not going to spoil each day by having to rush, to get obsessed with destination. It wouldn't matter how soon I get there anyway, as the Frenchies telephone reservations ahead. Could've been booked out weeks ago for all I know. I just want to enjoy it, and it's getting easier to do that.
9:45am
Les Quatre Chemins
| | |
| --- | --- |
| | Un Cafe, et suncream, and Ana cuts the bottom part off her trousers. |
12:46pm
Rieutort-d'Aubrac
Lunch. Baguette avec strawberry jam, and an apple. Couldn't bring myself to stop at the Welcome caravan at the beginning of town. The plastic garden chairs didn't look very inviting although the promise of a Coke was.
Left Ana near the Roc de Loup, on top of the mountain we climbed, her legs cramping up or something, wanting to rest, and I don't think the tumble helped either, something about a shoelace getting caught. The Angel of the Road, I hope our paths will cross again, but if they don't, thanks for just turning up anyway.
2:17pm
Nasbinals
The Gite. Virtually walked straight to it. I have a bed. Apart from the last part of the walk, which was hard, this was too easy.
2:50pm
Showered, Finally washed the orange t-shirt. Must've set the world record for wearing the same t-shirt non-stop. And, what's this, well, congratulations to me, my first blister. Left foot, between the second and third toes.
Today was 27 kilometers. I know there's longer days, tomorrow is a shorter day, but today became a grind. I'm no nature lover, but I stopped even noticing the scenery apart from the occasional glimpse, and a thrill when today's destination finally revealed itself.
4:52pm
And despite what the chick at the Office d'Tourisme said, the guy at Gite Pozziers (or something like that) let me use the Internet. Finally kind of replied to most of the hotmails. So Peter won Big Brother, what a bore.
And at the Pharmacie, bought 'dry-foot'and 'lot 9-129' which is apparently the local equivalent to Deep Heat. The backs of my hands look sunburnt. Bought bread, the one with the hard crusts, and two things that look like hamburger meat, I know not what.
Finally found the clothes line, and my stuff is drying. I need another pair of shoes, to wear in the evenings, as the boots aren't getting much of a chance to dry out.
Visited the church, being a good little pilgrim. It has a statue of Saint James and no aisle. Had a coffee at the Tabac/Bar.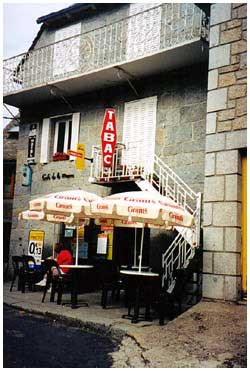 If I didn't have this anxious feeling I'd think this was a nice town. And, once again, I'm at the wrong Gite, not the communal one, but the one that's attached to the Primary School. The kids were playing soccer in the playground.
7:55pm
Again, under the clothesline. It's L'ecole St Joseph, and I think there's only three of us here, and I have the five bed room pour moi solo.
Bought a jar of coffee. Four euros, but that'll justify itself after the third cup, and I've already had two.
Found the 'Bonesetter's Monument', would've found it earlier had I walked into town the right way. I like this place anyway, I've grown accustomed to it's face.
And cooked tea for the first time. Petit pois and carrots, feel victorious.