Tuesday, July 23rd
Moissac
6:55am
My prayers have been answered. Muesli for breakfast, woohoo! and I'm given the coffee jug, double woohoo!
8:07am
At the first lock, 3 and a half kms on. The first part of today's walk is long, but totally flat, walking alongside the canal. At the start with the canal on the right, the river of the left. On the other side of the canal, graffiteed trains rush by. It's great.
9:00am
Second lock, 3.8kms further on. A few cars passing along the way. Thinking that maybe the children in one of those cars may be the those of the lock-keeper, one of them doomed to eternal vigilance in opening and closing the locks. Can't imagine they're used much for commercial reasons anymore, probably just for pleasure cruises.
What a life for that poor kid, having to smile at, wave at, bonjour or bonsoir the rich and leisured.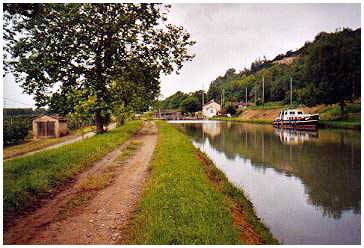 10:10am
Third lock, and there's a tractor on the path, with mowing equipment, clearing the way.
Today's walk, so far, has felt like a cheat. So flat, so shady, large trees with limbs bending down so the leaves skim the water, walking underneath. It's too easy. There must be a yin sometime today to balance this yang.
10:25am
And now I get to see a yacht passing through the lock. Never actually seen this before.
a little later
Pommevic
Buying a baguette and a coke. An okay place, kind of marking the end of the canal stretch of the today 's epic.
11:50am
Espalais
Stopping for a break. This place has everything; a church, a cemetery, an 'eau potable' fountain, a memorial to the 'aux enfants d'Espalais mort pourle France 1914-1918' with 12 names on it, a shop selling melons and kitkats, and a guy with a broken nose.
12:25
And the steep street into Auvillar was the yin.
| | |
| --- | --- |
| | Still, sitting in this round thing in the middle of the Place de les Halles, and there's a gentle breeze. |
1:27pm
And this pilgrim martyrs his way onwards, through Bardigues, while the Frenchies have flaked by the wayside. Only the Girl Guides, who began 2 and a half kms back, troop on.
Wouldn't mind a melon and a kitkat though.
a little later
Auvillar obviously prides itself as a town, while it's over-the-river companion, Espalais, is down in the mouth by comparison. But it's streets are steep and lengthy. Then the road walking begins, in the guidebook it'll say "turn at the D287, and keep on until ..." which, when translated, means quite a few kilometers of walking on the road. I think the narrower paths are only kind of circumstantial, the GR65 is plotted to keep walkers off the main roads as much as possible, but uses the roads when they can no longer be avoided. I doubt those pilgrims of medieval times had to walk the bitumen, or remember to keep to the left as the lorries whoosh past. Maybe there was a medieval equivalent to lorries, but then I guess they had to contend with the day to day probability of being ambushed, then robbed. I'll take the lorries.
3:26pm
Saint Antoine
Beginning to sound like a litany, but here goes. Found the gite, something like a cross between a farmhouse and the Addams Family. The old woman showing me around the room, it actually has a kitchen, but as she was proudly showing me the cutlery drawer, she must have yanked too hard, the entire drawer emptying it's contents, splattering silverware everywhere. Kind of funny, I guess.
Again, there's absolutely nothing here. No magasins, just a collection of buildings, it has a mairie, but I don't know what could possibly keep them occupied.
6:22pm
Joe and Clementine have arrived, and Clementine was able to reserve me a bed for tomorrow night, in Lectoure. Gite de Presbyterian or something, I guess I'll find it. Wish I could speak French, wish I had a mobile phone.
| | |
| --- | --- |
| | The humble pilgrim, at Saint Antoine. |
Been wanders, to the eglise, they have they're own relique here. A silver arm, apparently from Saint Antoine himself. The best part though was watching the woman who's renovating the paintings near the eglise's ceiling. Could've just watched for hours.
Have to admit it, I've never heard of Saint Antoine before, but from what I can gather, this town is full of Antoinites.
Weird though, out here, just this town, no shops, no bar, nothing, you'd think it was nowhere, but just over there is the nuclear power plant. It's been coming into view now and then, huge towers billowing white clouds. I guess the French just accept them as their birthright.
I'm sharing a room with Joe again. He tends to start walking much later than I do. And, hey, they got lost today, missed one of the balises, the one on the concrete under the Pommevic bridge, and walked to the next town before they realized.
There's another guy here, at the gite, who's been walking with a dog. The dog looks utterly beaten, and limping, despite the little red booties on it's front paws. Won't help much. Apparently, there's quite a few pilgrims bringing their dogs with them. Must be a French thing.
7:15pm
Been in a conversation with a German woman who apparently lives somewhere near Munster. She tells me there's a tidal wave of pilgrims a day behind us. Damn. If I decide to be a tourist for a day, then I face the prospect of having even more competition for the places to stay.
8:07pm
Clementine's appeared, and apparently we're pooling food. My noodles, her noodles, Joe's ratatouille. I found the salt, Joe's trying to find the red wine.
later
Tonight I cooked dinner for four people. I Rock! And they all said it was wonderful, but maybe they were just being nice. The fourth was another woman, a bike pilgrim, with an odd hip that allows her to ride as far as she wants, but she can't walk.
The woman who runs this place knocks on the door to ask if she's okay. A conversation in French, which translated into English, I was hoping, went:
"Is there anything you need, dear ?"
"Well, yes, strawberries and cream would help"
"Certainly. Anything else ?"
"A bottle of armagnac, enough for my friends too."
"It would be a pleasure, dear, we only have the best."
Didn't quite happen.
But what did happen was that for the first time, I didn't feel like an outsider.
much later
A walk down to the eglise, with Clementine.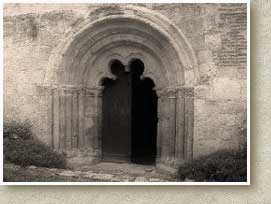 Looking at the relique, behind glass, with the light switch nearby. Then walking back, taking a detour down to meet a couple of guys who're camping in the shelter by the lavoir. They seem remarkably well set up.
On the way, Clementine asking what my kids think of what their Dad is doing, and explain that, to them, it's just some strange hippy thing. After I have to then explain what a 'hippy' is, she gets it.