Sunday, July 21st
Montcuq
7:10am

And not even the jazz band, good as they were, could keep me awake last night. Just totally out of it. Waking up at the usual time, to the sounds of the market stalls being set up, which I've been told stretches the length of the rather pretty main street, and down around the corner. Which has everything, apparently, so it should be interesting.
I'll be leaving late today. I've been asked to file a complaint with the Office d'Tourisme about the treatment from the Hotel Saint Jacques, so, if there's any justice, that place will be nuked immediately.
a little later
Ali Baba's has the pub next door, the Cafe de France, and another one across the road, a few baguetteries and boulongeries, it goes on, the old men playing boules, and posters all over for the forthcoming 'Univers des Reptiles', which I'm sure all the Montcuqians will be waiting with bated breath for. Was told last night that there's something of an Australian syndicate operating in this town. As buildings come up for sale, they're bought by the syndicate. Bejaysus, how do you buy into this, I'm wondering, I couldn't lose.
9:40am
Been for wanders around the market, Yes, it's huge. From the food being cooked in what looks like vast woks; to bags of spices and teas; shoes, belts and braces; woven baskets, flowers, pottery, leatherwork, African drums, sausages done in ways I never thought possible - some looking kind of furry. Fruit, regional and otherwise; vegies, likewise.
Maybe things were just meant to work out this way. Maybe events just unfolded in some kind of fated way. Dunno, but I'd like to think so.
10:16am
At the Cafe de France. For the second time. A coffee, just a small one.
My stuff is packed, basically just waiting for the Office d'Tourisme to open at 10:30. Rang home, and apparently Geelong annihilated Essendon last night, and explaining that the point of the official complaint is revenge.
10:30am
Time for the last sip. Time to go and make the complaint. Time to leave.
10:45am
Yep, made it. Wrote it out, and gave it to the guy, who'll adding to the steadily lengthening litany of other complaints levelled against the place.
12:03pm
Over there, on the hill, it Montlauzan. It's bells are ringing, and they don't quite know when to stop.
12:42pm
And bejaysus, that climb was steep. Thank You to whoever provided the blue rope. Only needed it once, but it was a nice reminder that not all pilgrims are young and fit ones.
1:25pm
Must be somewhere near Lauzerte, but I'm still in the woods, at some kind of junction. The sign over there warns me that:

ACCA
Reserve de Chasse
Faune Sauvage
Tout acte de chasse inderdit
which I think translates into 'Piss Off, or the savage fawns will kill you'.
2:35pm
Lauzerte
And that's the longest 5.5kms I've ever walked. The last 1km was a killer. Seemed like straight up. And shite, the gite is cômplet. The possibility of a caravan somewhere distant. 2kms away.
Sat in the Office d'Tourisme awhile. Dripping and sweating everywhere. I think I may have even become something of an embarrassment, but I don't care. They were helpful anyway, stamping my guidebook, a big black stamp.
3:37pm
And despite the gite being cômplet, feeling curiously unconcerned, as though something will turn up, and it did. A caravan, and I'm being collected at 5. So, I'll just nurse this one beer, and maybe another, and just wait. I could even get on with Wuthering Heights maybe. Sat for a while in the Cafe du Commerce, not much happening in there except the Tour de France on TV. But, in here, whatever it's called, they're playing some blues CD, and has paintings around the walls. By Yann Normand, and they're portraits, of the known and not-so-well-known, and they all have a red button nose. They're great. I like them a lot.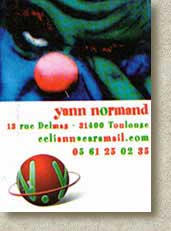 The guy in the Office d'Tourisme booked me a place at the Moissac gite too. So, tomorrow, the walking is fine, I can take as long as I want, and have to worry. Just go into relax mode. But, since yesterday, I no longer care, just let whatever happens happen.
In the cafe, checked the weather in La Dêpeche. Know exactly where to look. The next three days look like mid-20's, getting slightly cooler towards the end. Good news I guess.
Lauzerte turns out to be a medieval walled town, and I assume another one of the 'Belle Plus' villages of France, although it screams renovation at every point. The main square even makes a point of it, with one corner of the central courtyard uplifted, like a curling edge, showing the modern tiles beneath. Think I've had enough of the Belle Plus places, prefer the ones that just are what they are, other than places that pretend to be something else. At least the people here aren't in costume.
Today's walk felt huge, only 13kms, but it took about 4 hours, However, tomorrow should be easier, at least in the guidebook it reads easier. Whatever, just take what comes.
I'm asked the date by the bar assistant. 21 Juilliet? Shite, I don't know, I'm the last person you should be asking. Although I guess as I'm the only person here, I was the obvious choice. The other patrons are sitting outside, under the medieval alcove, getting a medieval breeze maybe, avoiding the medieval sun. The bells just chimed in the medieval eglise, and inside, an organist is rehearsing some medieval tunes on a tinny electronic organ. Hardly seems fitting, should be played on medieval instruments, medieval keyboards, medieval drums, harpsichords, whatever.
Maybe they could go further in the quest for the true medieval experience. Maybe pump some medieval type smells from the local sewers, and have medieval garbage strewn around the streets along with medieval type black rats. Have bent, crippled medieval types people with bad teeth spitting and pissing everywhere. Cool.
| | |
| --- | --- |
| | and the name of the arty pub is Le Puits de Jour. And I'm wondering what a 'puit' is. |
4:35pm
Still nursing this one beer, this Loburg, which I've never heard of before. tastes much the same as any other beer, not much a beer connoisseur anyway, My 'Beer Drinkers Guide to Europe' would be very subjective, probably largely depending on how much I felt I needed one at the time. Think I'll give this one an 8/10.
5:01pm
It's gotten hotter in the afternoon and I'm glad I'm not walking in it. It's not an intense heat, not the oppressive kind, nor the kind that just sucks the life out of stuff, it's more an annoying sort of heat.
6:05pm
And for a bus that was supposed to be here at 5, and at quarter past was meant to be here in 10 minutes, this is stupid, maybe he's gotten lost on the 2kms between here and wherever, maybe he's milkin' the cows, maybe there was a storm!, a flashflood!, a fire!, maybe he's still at home bonkin' the missus in the very caravan I'll be staying in, maybe he's enjoying l'petit mort, I mean, hell, the French invented the phrase.
Maybe he's had a flat, maybe he can't get l'bus started, maybe he's outta petrol, the sans plomb kind they sell here, maybe he's pushin' the bloody thing up the hill, of the may-as-well-be-called-vertical kind, that leads to this Belle Plus Ville. Maybe he's been called away to something more important, like a few beers and a round or two of poker; maybe he's engrossed in the final few chapters of Les Miserables. Maybe he's bingled on the way in, maybe his very life is hanging by a thread at this very moment as frantic paramedics apply CPR, with every gasp his last, maybe he's saying "But...I...have...to...collect....passengers...from...Lauzerte..."
"Sorry," replies a paramedic, "you ain't goin' nowhere."
Maybe he's been kidnapped, by the very people who have hung protest banners all over Lauzerte, the ones that object to the proposal to build High tension Towers through the area, a la:
L'antennae ?
Pourquoi pas ?
Mais sûrement pas la !
Whatever, I bet he's just forgotten.
6:17pm
Nope, that was a green Harley, that all the patrons of Le Puits de Jour turned to look at. Just sounded like a bus.
6:20pm
And there's a concert in the eglise, happening right now, I can hear the applause, and shite, I'm waiting for a feckin' bus, can hear the choir. I'd go, I'd listen, but for Pierre and his feckin' stupid bus. Feeling slightly nauseous.
6:23pm
More applause. Shite, I could feckin' kill Pierre, and his bus.
6:28pm
Nope, that was car with a trailer, hauling a dad stove. It just sounded like a bus.
6:35pm
Maybe there's a reason for all this. Right now I just can't fathom it. And no, that was a red Peugeot, just sounded like a bus.
6:44pm
Just had a flash. The caravans are cômplet too, so he's not bothering. He's pretending we don't exist. I guess I'll just have to sit here all night long. Whatever.
6:48pm
Introduce myself to the other guy that's waiting. He's Joe. Joe introduces me to Clementine, a French pilgrim who's managed a place at the gite. She tells us that it's not that great anyway, and the beds have wheels, like hospital ones. Makes me feel better.
The Office d'Tourism chick says that both of Pierre's cars "aren't working", and she'll be taking us to the campsite when she finishes work at Sept Heures.
7:47pm
Finally, at the caravan park. I'm sharing a van with Joe, who's from Newcastle in England. Showered, feeling better. Washed the stuff, it's hanging out to dry. Sandalled, so the feet are saying nothing, but they're cooler anyway.
Sitting outside, reading. There's no cooking facilities here at all. So, it's yet another baguette tea.
evening
Talking with Joe, having a few more beers. About the walk, about people we've both met along the way, about work, about the hard climbs, about Clementine, who apparently walked 42kms on her first day from LePuy to Saugue, and who they all thought was insane. She was, from the pain in her knees.