7:40am
The money's things getting tight. I've offered to do this weeks laundry in the Liffey, but no, C says that it's not that desperate yet.
8:07am
Michael Flatley's resigned from Riverdance.
Midday
Hugh Lane Gallery.
Another 'Sundays at Noon' concert. First we get a marimba solo. Always feel a bit sorry for marimba players, that their cheap
parents were too scungy to buy them real instruments. Then a violin and piano bit, all atonal arrhythmic crap, flashy and smartarse
playing though. Next, the soprano. I have no idea what she's singing about. The cellist is good though.
9:16pm
Outside, in Bride Street, the local boyos have gotten hold of skyrockets.
10:02pm
And Father Comisky has been nominated for Irishman of the Year, despite having been dragged through the press, and is currently checked into some American rehab program for his alcoholism. Or maybe there's more than one Father Comisky.
Monday 2/10
10:20am
The GPO. No rebellions in progress. I feel vaguely disappointed.
afternoon
James Joyce's Tower, Sandycove

The exhibition, the posters, a flashing Gerty, an expounding Citizen, a yessing Maly. Books, photographs, his guitar, a tie he gave to Beckett, his trunk upstairs, the room, bed, hammock, the panther in the fireplace "leave him to me !", the Fearful Jesuit stairwell, come up, the turret, looking at the not quite snot green sea and the forty foot bathing place
.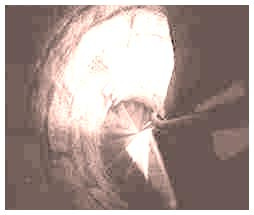 And on the news, some Chinese doctor is proclaiming a cure for Parkinson's Disease after injecting 9 people with foetal brain tissue. Wonder who the willing donors were.
Tuesday 3/10
8:41am
A postcard from some rellies, a strange one, the most unreadable part of it being about some kind of lamentation over some decision regarding Australian archaeology and the material from SouthWest Tasmania. Didn't quite get the gist of exactly what happened, but Australian archaeology has always been lamentable anyway. All those bloody essays in which you have to argue that yes, there has been continual (if not rapid) change in the Australian archaeological record over 40,000 years of Aboriginal occupation. What crap. Millions of battles between aboriginal tribes and not a single Cuchullain or Dierdre to emerge from the melee, they couldn't even manage a Finn MacCool. There's enough Aboriginal dreamtime mythology to sink a fleet of bark canoes, but yet not a single Mad Sweeney. But then, archaeology doesn't give a snit for mythology anyway.
5:10pm
And yes, Michael Flatley's definitely parted ways with Riverdance. Seems that his demand of £50,000 a week was a bit much, basically wanted his wage doubled. Jaysus, if I had mine doubled I'd still be getting feck all. A thatched pub set on fire by traveller's children, courtesy skyrockets, the travellers themselves left Laytown in a 'shower' of stones. The British reaction to the French nuclear tests? couldn't give a damn. While the US only 'regrets' it, much to the amusement of the French Minister. How jolly. Tres jolies en Paris ce soir.
Waterstones.
There's a book on Bunratty Castle that I glanced through. The only pre-restoration illustrations are line drawings, so maybe they assume that no pre-restoration photographs exist. They do. I catalogued about a dozen of Westropp's photographs of Bunratty earlier today, interior and exterior.
8:15pm
Re-reading the Newgrange chapter in 'The Road Wet The Wind Close', the structure, the decorations on the orthostats. Any relationship between the builders of this and the builders of Stonehenge or the builders of Carnac? Is Newgrange before or after Stonehenge?
Corporation Street, walked Beaver Street. The opposite way to what Leopold and Stephen did though. Towards the corner where Stephen copped the beating.
9:40am
Busaras. Waiting for the tour bus.
10:58am
HIll of Tara, a guided tour by the luscious Lara Johnson. No time to walk over Rath Grainne. Pity.
1:30pm
and cups of tea at the Wellington Court Hotel, County Meath.
3:25pm
Dowth, then Mellifont Abbey, and then onwards to Monasterboice. The Cross of Muirdach, panel by panel.

10:30pm
Out, on the balcony, and just below me some guy came to the front door, leaned into it, gave up when the door didn't open, then walked up to Swifts. No, shithead, you just don't walk into anybody's home. Why not try that across the road at the Iveagh Buildings, and see how long it takes for its residents to kill you. Not long.
Friday 6/10
8:21am

Yep, I was so proud. Proud as any Dublin parent could be, nearly burstin', as Shannon did her first slag on the streets of Dublin itself. Outside the Irish Craft Centre, waiting for the 123 bus to school. The big ph-chew landing, glob on the pavement. A true Dub.
10:25am
Emer O'Kennedy, today's Dunnes' check out chick. First Emer I've come across for real in Ireland, But somehow I don't think she'd excite Cuchullain to the point where he'd insist on plonking his sword in her sweet country, maybe if she bared her country and said "sword me, big boy," but he'd probably just deputize his three times fifty warriors to cross that sweet country instead.
But the chick in the chemist wouldn't get her sweet country crossed by anybody. Deputized or not.
12:40
Seamus Heany's just won the Nobel Prize for Literature. And deservedly so, even if Sweeny Astray is out of print. I'd have given the Prize to Shane MacGowan, though, I mean, he wrote Fairytale of New York, and Rainy Night in Soho, and Haunted, and, and, and ...
3:50pm
The Long Hall. Over on the other side there's the
80 year old version of The Absinthe Drinker, getting right into what's at least her second bottle of Guinness. Probably seeing us as tourists and no doubt thinking "piss off," or something equally as welcoming. Yep, give the Ceade Maile Failte surface a tiny scratch and hers is what you'll find underneath.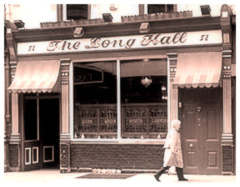 5:50pm
The Bad Ass Cafe. Eat the Peach, Banana-Rama, and Knickerbocker Glories.
Saturday 7/10
12:14 pm

Moore Street.
On minute, a massive chorus of Tobacco sellers, the next, they've vanished. A garda talking to one of the cigarette lighters five-for-a-punt people, about the wad of notes in his hand, "me wages, I've just been given me wages." All quiet on the tabac front. Damn. I'm out, and need some.
"Tobacco ?" a woman almost whispers, "£3.50."
"Yes," I whisper back.
She signals to someone, and I slip the money and get the blue packet.
Later, the same garda re-emerges from Moore Lane, carrying three cartons of obviously confiscated cigarettes. Blue cartons. Jaysus, of the tonnage that must be sold every day on Moore Street, the best they can do is three cartons. It's the most pathetic 'crack-down' of all time.
Finally, back to the apartment. Liam's writing an essay on Sir Isaac Butt. An alcoholic apparently, with mistresses scattered, littering his path. They all did. Parnell, O'Connell, Butt, the rest. Yep, show 'em a red-haired Irish lassie with skinny legs and all, and there you have it, lots of sweet countries crossed.
5:22pm
National Museum
Stayed until the guards announced closing time. Rather than look at the pictures of Megalithic Sculpture, and reading the 'expert opinions' for an essay, Liam's sitting in front of the real things, and arriving at his own expert opinions. The Loughcrew kerbstone, the Knowth mace-head, the Sheelagh-ne-gig, although that revolts him. He deserves an 'A' for this.
10:35pm
C's been making lamingtons and Anzac biscuits for tomorrow's picnic in the Wicklow mountains, maybe we could make a great pile of vegemite sandwiches too. Except, here, vegemite's £1:50 for a tiny sample jar.
Sunday 8/10
10:33am
This week's 'Big Issues' has Sinead O'Connor on the cover. Nearly tempted to buy it, but wouldn't want to give the seller false hopes.
2:25pm
At the waterfall, at Devil's Glen.
It's okay, but not as romantic as the Glencar waterfall. Maybe this one has historical and literary associations too, I don't know. Talk about the 'colours' of the trees, just shades of green really, yellow-green, reddish-green, brown-green.
later
Dalkey Island Hotel.
In the main bar there's photographs of the previous years' Miss Dalkey Island contestants. Wonder what you have to do to be Miss Dalkey Island, when all that's there is a Martello Tower, a church (in ruins, naturally), a Promontory Fort, and a population of goats. The pub's quite good, though. I discover the palpable loathing they have here for Paul Keating, the Australian Prime Minister. It seems just to be a given, but I don't know why.
Monday 9/10
8:30am
and Dublin beat Limerick in hurling at Croke Park yesterday; while Mary Robinson's off to Rwanda, and the archbishop's are meeting today to discuss the problem of child abuse, but the issue of payments to victims is not on their agenda. Jaysus, when will they accept that apologies are not enough, that payments are not enough, that nothing less than a crucifixion is enough, nailed to the walls of their own churches.
3:21
Hodges Figgis
Mostly just browsing, but more than a browse of 'Fire in the Head' by Tom Cowan. Nobody knows that much about Druidic religion anyway, so if they want to connect it with shamanism, symbolism, Glastonbury waffleism, Avalon "come away come away", the spirit eternal, then it's okay. And did Diodorus really witness the Celtic warriors buggering each other, being 'dishonoured' if refused? Did they really 'scorn women'? Not sure if I really wanted to know that the Celts were gay. Maybe the priests who are buggering their altar-boys here imagine they're continuing some kind of glorious Celtic tradition, combining the two great forces of the Irish spiritual heritage.
Nah. Don't believe it either.
5:50pm
more news, from the front page of tonight's Evening Herald. 'Irishmen Flogged', in Pakistan for drug-smuggling, one's from Wicklow, the other from Tallaght (figures, I guess).
8:48pm
Danger Doyles.
The barmaid, cute enough, has a nose-stud and a scab over her left eye, like she's been hit or something.
A band called The Tain have just begun. It's an advertised gig, but it's more like a session, and I'm the only one in the audience. They have a banjo, guitar, box, and pipes. It's more like a session. Discussing "do'ye know this tune?" then clagging out, as they forget how it goes, then having a little chat among themselves about how someone else was "in rare form" last night. They need a bodhran player, and less talk about handmade guitars that cost £1,100.
This place has the smell of the recently renovated. On the ceiling, shower tubing and tiny lights, and there's a sculptured bicycle, painted pink. There's the taint of new-ness about this place, as though it hasn't had enough time to actually become anybody's 'local' yet.
9:18pm
A song, a ballad naturally, something about a foxy devil, which is about drinking. Wondering what the characters from the real Tain would make of all this. Maeve would probably prefer something else entirely, maybe a stanza or two from her favourite Druid, something cursing the men of Ulster or of her own mighty army. Maybe something by Bob Dylan.

9:30pm
Now the banjo player is talking about somebody else who plays well, and some video on banjo-playing that he's seen, commenting on the way a plectrum is held. Wish they'd just get on with it. But, as I'm the only audience, I guess it doesn't really matter.
9:52pm
Must've had a look on my face that looked menacing, as even the lovable rogues gathering outside the Napper Tandy dispersed when I got near, one of them asking the time, "quarter to ten."
7:30am
news: the pubs are being reminded, again, that the winter closing times are 11:00, half an hour earlier than summer times, which all seems a little stupid.
9:05am
Museum
and there's a sticky note attached to my computer screen:
'Mark,
re: Inchoven Castle
td. Toormore, Co. Clare
OS 16 1st Ed.
SMR 16:83
Mary'
Now I'll go back through the records to find it.
9:16am
Found it. Then what the hell is Kilfenora, beside being a bloody good tune?
9:54am
Apparently I was on TV last night, on prime time news. Walking across Molesworth Street to the Museum, from the anti-drugs demo last week. What a star.
10:38am
Waling up St Anne Street, and wondering why we've never had a meal at the Gotham Cafe, the one with all the Rolling Stone covers, Bruce Springsteen skating on ice, Yoko Ono behind glasses. Met a large Australian outside the Museum, who works in ceramic tiles in Adelaide. He wanted to know how archaeologists date gold; bet we ended up talking about footy, and about he he gets to Moore Street from here; the situation in the North, de Valera, and he was surprised to learn that Cromwell is the most hated name in Irish history.

2:03pm
Museum
Looking through the Treasury, the book shrines, the psalters, wondering of the the one from Devenish is the one thrown into the lake by Mad Sweeney, and rescued by the otter. I should check, but maybe it'd just be better if I lived with the illusion that it was. Oh well, back to the Westropps.
4:25pm
Ballycullen? In Co Clare? Hit a snag, so stuff it for today.
4:26pm
It's near Sixmilebridge.
8:45pm
I bet that Claire with the Acne Problem at the Patrick Street Londis hasn't even noticed that the Christchurch Bells are ringing. Nope, just this totally vacant look of "not long to go now", and she didn't appear at all enthusiastic about selling me cigarette papers at all, altogether. No, not the king-size, just the ordinary ones.
much later
and after the session at the Auld Dub , went 'round the corner' to Eamon Doran's. It's crowded, we end up around the back, through the fire escape. Feel awkward, particularly with Eddie, who's hyper and manic, who howls at the moon and then rolls hash with an irritating amount of attention to procedure and ritual. Boring.
Museum
Have the Townland index; the O'Donovan County Clare Survey, and 'The History and Topography of the Country of Clare' just in case. Looking for Westropp's 'Ballycullen'. Jaysus, it doesn't exist. Not anywhere.
11:24am
Yes, it does. And it would've taken less then 15 minutes to find Westropp's 'Cregganeowen' if he'd spelt it Craggeneowen like the rest of humanity.
4:19pm
Finished Westropp's castles of Clare, took nearly all day. Then the Waterford negatives. The Round Towers. One theory on round tower design is that they were phallic symbols. Big pricks, basically. If so, the round tower at Ardmore is a condom wearing phallic symbol, one of those ribbed exciter types.
In 1657, apparently, 157 men hid in there from the English. Despite surrender terms offered to the contrary, the Brits hung most of them when they emerged, on the spot.

The 1st edition 6" maps that I'm working with are works of art. At the moment I'm using the map of County Roscommon, looking for Glenballythomas townland. Glenballythomas includes Rath Croghan. Cruachan.
Powerscourt Arcade
There's an absolutely beautiful photograph of the Westmoreland Street Bewleys, in the Giles Norman shop. It's not in the £5 'Dublin Collection' of prints. Otherwise, it's £15. Bugger.



Thursday 12/10
9:22am
Museum
have the Townland Index, the O'Donovan Co Clare Survey, and 'The History and Topography of the County of Clare' ready. Just wish my brain was.

9:25am
Yeah, right. Ballycullen. Doesn't exist.
10:24am
Yes, it does.
10:35am
In Wexford, though, there's a townland called Knock of the Rocks. Must be great.
10:50am
And just when I was thinking that there must be something about the Antiquities Divisions of anything that attracts some really ordinary looking Work Experience types, in walks something unspeakably beautiful. With skinny legs and all.
morning break
Raghnall was quoting some of the "nutters" they've been in contact with. Like the one who claims that "the only difference between Ireland and Egypt, is that in Ireland they have fairies and in Egypt they have pharaohs," and Nessa's letter, addressed to "the red haired lady behind the locked door, National Museum, Kildare Street" from the man whose house, he says, was used by Saint Patrick to dump all of Ireland's snakes.
2:00pm
Tom Robinson, in his book on the Aran Islands, 'claims the monument to conception' of Finnegan's Wake to Joyce's day on Aranmore. Something to do with the 'throwaway'. Strange, always thought Throwaway was a horse, but maybe he's referring to the crumpled word on paper, restless and free, floating down the Liffey to the sea, bumping itself into the O'Connell Street Bridge.
3:26pm
"In the townland of Kildroughtan in this parish (Dysert) stood anciently the walls of a church, but the principal part of the building was carried out by fairies."
J. O'Donovan, O.S. Letters, Co Waterford. p.62
This is for real.
There's red tracksuited primary kids being led out of the Museum after their excursion today, two by two, each clutching a manilla folder, much to the amusement of the older blue and grey schoolgirls, all polite, all moving to the one place on the steps at the front when told. Wonder how many times during an Irish education one gets dragged to the National Museum. Too many, probably.
Finished the book of Clare Castles, never thought I would. Took nearly all day just to get from 5:66 to 5:100, then began the Waterford booklet. Ardmore, the roundtower It's ribbed. One theory on Round Tower design is that they were phallic symbols.
But, 157 men surrendered to the English, in 1657, after hiding out in the Ardmore Round Tower and the Cathedral. And despite promises to the contrary, the English hung 117 of them, on the spot. Jaysus. The Bastards.
Now, is the Ardmore phallic symbol in the actual Ardmore townland?
later
Nope, of course not. It's Ardocheasty that's being driven wild with excitement.
4:25pm
and 4 miles out of Lusk, after the road, behind the third fence on the left, and almost hidden by the fence itself, is St Declan's Well. St Declan was the one that floated in on a rock, Magritte-like, to the coast of Waterford. I think the dude maybe Westropp himself.
The rock is still there. Westropp is not.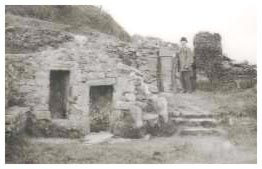 6:31pm
And at Slattery's, there's a band called 'Hedge School', who are described as 'Thin Lizzy meets The Wolfe Tones'. Think I'll give that one a miss, as both those bands sucked anyway.
8:47pm
There's a bunch of kids being led up Bride Road. Maybe being told "Now children, this is the Iveagh Hostel, where the boogeyman lives". They're all eating ice-creams. Yellow ones.
10:12pm
and an army tank has just rolled down Bride Street, passing the Iveagh Hostel. Must be trouble out in Tallaght tonight.
7:02am
news
The Nobel Peace Prize is being announced today. John Major thinks he has it in the bag.
10:21
Dunnes Store
And the lovely Aisling, of the Dunnes check-out chick hall of fame, is looking a bit worse for wear this morning, a tad tired, eyes totally devoid of sparkle, must've gotten through quite a few pints last night.

11:33am
Lusk
Maybe we didn't walk far enough, maybe it's gone, maybe the fence completely hides it, but if St Declan's Well really is there, then it's not making itself known.
But, nearby, supposedly, was the fort of Emer. At least, a fairly puny mound was exactly where it should have been, according to the 6" maps and Visiting The Places. Emer, the love of Cuchullain's life, was a Dub. Yep, bet she wore Doc Martens, smoked, spat on the footpath, and ate crisps 'til she was spotty.
2:45pm
At Bewleys. Westmoreland Street.
Marion at the servery, with a friend to her left.
"Can I help you there love?"
"A Mug ..." C tried to order
"Blah blah blah, blah blah" says Marion to her friend
"mug of coffee,"
"Blah blah, " Marion continues
"and a pot ... " C tries to order tea
"Blah blah, blah ... here you are."
"... of earl grey tea"
Angry looks from Marion, "then why didn't you say ?" she blurts, but quickly returning to her friend, "Blah blah blah, blah blah .."
Marion appears to have quite a problem regarding concentration span. The pot of Earl Grey gets slammed onto the counter.
On the points for service, we've just given Marion a minus score. She earnt it. Well done.
4:40pm
The Dublin Civic Museum
They've got Nelson's head, from the column that got blown up.
And a huge display of paraphernalia associated with John McCormack. Recordings. LP covers, photographs, newspaper clippings, stamps, medals, 78's and cylinders, a poster advertising not only MacCormack but also the support act - the 15 year old Yehudi Menuhin.
7:00
news
There's no mention of the Peace Prize, although John Major has been accused of "pandering to the right wing of his own party." I assume he didn't get it.
9:40pm
For some reason, didn't buy the new In Dublin, even if it does have a copy of the the first ever Irish Playboy magazine on the front. Maybe they should've put some Irish chick on the front. Jean Butler maybe, maybe the entire chorus line from Riverdance, but whoever it was on the cover, it certainly wasn't Sinead O'Connor, hell, the hair-wrapper from Henry Street would've been better, and it certainly wasn't Aisling from Dunnes. Bet whoever it is on the front isn't even Irish.
8:06am
"It was in Smerwick in 1850 that there landed an expedition of about six hundred people, financed by the Pope, composed mainly of Italians, but with Spaniards, English and Irish amongst them, as well as women and children. They occupied the Golden Fort (Dun an Oir) on the headland, hoisted the Papal Flag, and waited. It was the first considerable invasion of British territory since the Norman Conquest, and was taken seriously. They were surrounded by Lord Grey's forces, surrendered and they were all slaughtered. The massacre shocked Catholic Europe. On that day Walter Raleigh was the Captain of the Guard. Edmund Spenser, Lord Grey's secretary, may have witnessed it."
Voices in Ireland, p.196-7
8:15am
"Shelley, aged twenty one, and his even younger wife Harriet .. spent two mysterious weeks in Killarney in March 1913."
9:25am
Banagher. Apparently the Brontes had their honeymoon there, and Trollope worked in the Post Office.
11:45am
Bought Shaun Davey's 'The Pilgrim' earlier. Good God Almighty, it's huge. Pipes and drums and orchestras. Just huge. And just when you think it can't get any bigger, the bombardes kick in.
2:53pm
There's massive queues outside the Savoy, for 'Pocahontas', had to fight back a huge urge to announce that she dies in the end. And there's fireworks for sale, in Moore Street, although here they're apparently called 'foyerworks'. They're illegal. Walk down Henry Street though and you could buy enough foyerworks to really scare the shit out of the Bosnian Serbs.
6:40pm
And Shannon has decided that if she gets married to some Irishman, her reception will be at The Gresham. It'll cost me £30 per person, at 250 guests, about £7,500. We had a look around, but I felt disreputable, as though the actual paying guests were thinking I was some kind of foyerwork seller.
7:22pm
Moore Street
and one of the senior Garda heavies is just having a chat with someone, while the tobacco and foyerworks sellers are still in full cry all around. A few of the foyerworks rockets were actually set off, one landing against the upper window of the Ilac Centre, the other blasting high in the air, but he didn't even budge. Jaysus, you could have filled his pockets with penny bungers and blown his balls off, and he still wouldn't notice.
9:55pm
Reading more of Voices In Ireland, and, "according to Joyce", Leopold Bloom was born at 52 Upper Clanbrassil Street. And apparently Bram Stoker married the woman that Oscar Wilde wanted. Oscar actually asked for the ring back.
4:14pm
52 Upper Clanbrassil Street. where Leoold Bloom once lived ..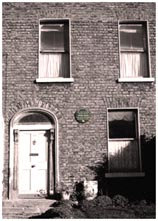 4:31pm
Portobello Pub
The group over there just began singing an Eric Bogle song, "William MacBride", the one they imagine is about the Easter Rebellion as it mentions 1916. It's not, it's about World War One.
8:40pm



Whelans
And Odessa are doing the soundcheck. The flute, wooden; whistles, the normal one and the Bb low, and a little reverb on that one please, "you want to play a bit of bodhran there ?", yep, he does.
Others are arriving now, must be on the guest list, which seems humourously long, maybe everybody south of the Liffey is able to get in free. They look like southern Liffey types.
Support act. A chick fiddler, dressed in black, long black hair and pale. I'm in love already, she's brilliant and she's only just tuned, but she tunes brilliantly. Under the light, she's blue, so I can't see if she has the proverbial ruby-red lips. Was that Grainne, or Deirdre . Maybe Finn McCool himself will burst into Whelans sometime during their set and demand his rights here and now, on the stage, between the microphones, to amplify every squelchy noise, yep, right in front of the drums.
9:13pm
and she smokes. Bonus points. And her name is Brida Mayoch, and she's a goddess.
Later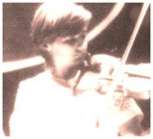 Odessa were brilliant, a Moving Heart-ish approach to traditional music, and the drummer is, apparently, "the rhythm king" himself. The bodhran player turns out to be the same guy that guested with Altan. The flute player thanking his mother, at the end, for getting them the gig .. so.. Irish, I guess. From the bottom of his Irish heart.
The fiddler is beautiful. I think her name is Breda Smyth.


Monday 16/10
8:45am
C is working out the present list, the "we're home, and here's presents" kind. Bugger 'em all. I reckon. Nowt for the lot of 'em. A bag of Banshee Bones, at the most, between them.
10:55am
Shelbourne
I think this is called the Lord Mayors Room. Everything's very knobby, and the old duck on my right reads her 'Herald Tribune' over the top of her glasses. Don't know how one gets served in here. Shout "Hey, You !!" ?
Sandra Whelan, though, recommends Christmas Day. Hectic on Christmas Eve. Brings a silver tray, laden with sugar bowls (brown and white), tea strainer, an anti-scald thingy for the tea pot. Plates, with serviettes, silver knives. Class. Chandelier, Victorian wallpaper, plastered decorated ceiling with a heavy and intricate cornice. Fireplace, unlit.
Danish pastries, and walnut bread. Earl Grey tea, with milk, water and tea in the silver service, and my cappuccino.
The window cleaner working on the outside, behind the slave on the left of the entrance. Fair enough, we wouldn't want to let the rabble in.
You can get four cups of tea from a Shelbourne tea pot.
8:17pm
Some Breton guy has just won the Nobel Peace Prize for his services to the anti-nuclear campaign. Wonder if John Major and what's-his-face Reynolds feel gypped? Maybe Jacque Chirac thinks he was more deserving too. Bâtarde.
Tuesday 17/10
1:06pm
Museum

and just when you're beginning to like the place again, Des King turns up.
"You still around ?" he says, not quite believingly.
Well, yes, I am. We ignore each other for the next hour and a half.
1:54pm
and now that Heaney's won the prize, Waterstones has a complete display of all his stuff. Bejaysus, there's more Mad Sweeney's than you could count. If Waterstones had trees, mad Sweeney would be falling out of them.
late
back from the Auld Dub session. Played fiddle, Sean Ryans Reel, Drowsy Maggie, Kid on the Mountain, but mostly played bodhran. The years of practice, of the fantasy of playing it at a real Irish session, I guess I've done it now, just wish I'd played better.
Wednesday 18/10
8:02am
On the way up to the 123 bus stop, with Shannon reciting The Wild Swans At Coole all the way up Bride Street, while waiting at the sop, and she's probably still at it on the bus, and probably won't stop until today's written English test is over. Yep, writing down Yeats' poem is the test.
8:26am
News. The Brits are now talking about Twin Tracking the peace process. Whatever that means.
12:39pm
Museum
There's 'helpers' all around placing the Viking Conference material into cardboard boxes. And jaysus, there's Des King again, enough to put a man off his ham sandwiches. Still, didn't stay long, but managed to pinch his copy of 'The Star', which appears to be full of bizarre stories, giving the low down on Paula Yates' early days as a heroin-snortin' wild child, sensationalist crime stories, and who's been caught bonking who.
Later
Trying to attach a townland to a few castles in County Limerick. In Shanagolden. Turned out to be Shanid Castle, in Shanid Upper, and a convent in Shanid Lower. And, nearby, a strange, Viking-fixated man, who wants to visit Clonmacnois, only because the wife of some pagan Viking King is buried there. Tried to get some conversation going, mentioning Daithi and Cruachan, but he wasn't interested in Celtic Pagan, only Viking Pagan.
4:30pm
Grafton Street. A busker, on Uillean Pipes, who I think is playing the entirety of The Brendan Voyage, including Water Under The Keel. He's very, very good, in fact he's brilliant.
6:21pm
Been playing the CD of The Seige of Derry, Rita Connolly singing St Patricks Breastplate, and it's absolutely beautiful. I Arise Today. Almost enough to make one convert on the spot. Hallelujah, and Take me Home, Lord.
9:56am
Museum
I'm getting really good at spelling Manisternagalliaghduff Convent (at Shanagolden, in the Townload of Mullagh, in Co Limerick).
10:31am
Except it's not in Mullagh at all, but the townland of Oldabbey, logically.
11:38am
At morning tea I learnt that HKS stands for Helpless Kerryman Syndrome.
12:40pm
Askeaton Friary. TJW couldn't use enough film on this place.
lunchtime
To Waterstones, to discover that someone's done the book I'm after. Well, nearly. Legendary Ireland. Photographs, beautiful ones, of the places associated with Irish mythology. Moytura, Lake Derravaghah, Cruchain. Photographs by Tom Kelly, text by Somerville Ross. Read it, or at least looked through all the photographs. A brilliant one of Cuchullain's Stone, looking upward at an apocalyptic sky. £19. I can't afford it, but I'm glad to know I'm not the only one to have had the idea. Maybe if there'd been a chapter on the places of The Tain, I'd have bought it.
Then walking up Duke Street. Construction work proceeds apace in the marks and Spencer ex-Brown Thomas site.
3:32pm
and now that Heaney's won the prize, Cathach Books has a window display of Irish Nobel prize winners. On the left hand side of their door there's Seamus himself, Samuel Beckett, William Butler Yeats, George Bernard Shaw; there's Rare and First editions. Hardbacks. Taking up an equal amount of space on the right side is a display totally dedicated to James Joyce. Ireland's greatest writer, but who never won the Nobel Prize.
later
Wicklow Street
Sub City , just browsing. An entire shelf of Sandman graphic novels. Back to the Forbidden Planet, read a few comics. 'Big Letters', well drawn, a psychotic taxi driver. his passenger a woman who imagines her 'daughter' sitting beside her, but who had been aborted. Another 'Uncut', vigilante women, hey you, you're gonna play my meat flute. Swish, slice, cut. Throat bleeding men.
Then down to the Record Collector. If I wanted I could have bought the cassette bootleg of REM at Slane Castle.
5:03pm
Liam only scored a B1 for his Yeats work. September 1913. If he hadn't slagged Yeats previously then he may have scored better. I think his English teacher may have a bit of a crush on the old Yeats. Probably goes on pilgrimages to Drumcliff graveyard. Ben Bulben, Glencar, and probably even camps out on the shores of Lake Innisfree. Still, the criticism was better than that on his Art essay, along the lines of "too much like a documentary", an interesting comment on an essay on the life and times of some artist. I', just wondering what drugs the art teacher was on at the time, or if she read it at all.
Friday 20/10
7:08am
news
A 12 year old boy has disappeared on his way to choir practise at the Pro-Cathedral. And Larry Mullen's son has to live with the name Aaron Elvis Mullens.

11:26am
on the 123, to Mount Temple. S & L forgot their lunches this morning, C thinks they'll starve.
Nearly, yes, College Green, around the Bank, Westmoreland, Bewley's window, Fleet Street, now covered with shades. Stena Sealink, Irish Ferries, Pharmacy, O'Connell Bridge. The new Burger King. Wonder what they call Burger Kings in France. Burger d'Roi? Roi d'Burger? And what of the whopper, l'whoppaire?
Jim Larkin, arms out. Lir's clock plays a John Denver tune, the one that fills up his senses. Right into Cathal Brugha. A pigeon on a statue's head, the one on the left of the group of three. A man reading a paper on the seat in front. The Sun. "My Ordeal Over Affair With Sir." More extracts from the Paula Yates autobiography. Poster for the Pogues new album, Pogue Mahone, how imaginative.
Saoirse, grafitteed.
Storm, Rain, Wind, Hail Guinness.
The Fairview Inn, green and black marbled paintwork.
Brian Road, the roundabouts, first right, and the next one will circle clockwise.
Charlemont, Marino Institute of Education. Griffith Avenue

12:21pm
Marino Casino, while we're in the neighborhood. We're guided through by Doreen O'Donovan. She obviously loves this place, but, best of all, she got political. Apparently Charlemont crawled out of his death bed to vote against the Act of Union. Yep, Charlemont was her man all right.

2:32pm
The latest accessory for any self-respecting 'hunry and homeless' type is a pathetic dog. The kiddie version of the doped baby.
4:29pm
Dunnes
Got the fabulous Elaine Murphy this time. For whom, Cuchullain would have salmon leapt over the triple rows of checkouts, laid his sword in that sweet country then and there, and then leapt back over the walls with Elaine held tight in one arm, and the cash register in the other.
4:40pm
Shane MacGowan himself is performing at the National Stadium sometime, wherever that might be. Frabjous Squeals of Joy.
4:57pm
Curlywurly's joke, "did you hear about the two prunes that were arrested for being stewed ?". And, according to the packaging, Curlywurly's are 'by appointment to HM the Queen'. So the Queen herself probably fancies the occasional Curlywurly. Princess Di probably binges and purges Curlywurly's. Prince Charles doesn't look too much like a Curlywurly man. May be that was the final straw.
"Chucky, if I can't have another Curlywurly then I'll throw myself down the stairs."
"Rightio, dearest."
Saturday 21/10
morning
Over the scrambled eggs, discussing approaches Liam could take with the essay he has to write on Yeats. Imagining a heated conversation between Yeats and Gonne:
"Marry me or I'll marry yer daughter !"
And wondering if Iseult MacBride was another legendary beauty, and wondering what happened to her. Maybe she became one of the aged Dunnes check-out chicks. Maybe Iseult is the nice lady who scoops the ice-creams in the cafe at Drumcliffe.
11:18am
And I still can't believe this, I actually have a ticket to see De Danann at the Olympia, £13.50. The gods themselves descend on Dublin on the 16th of November, and I'll be there, 8:00pm, Stalls H15. Jaysus, and the poster's bloody huge too, Dervish sized, and no home is really happy without them. Having trouble quite believing this.
Back from the Moore Street market, C and Shannon on the bus up to Mount Temple for Saturday morning gym, me to the post office (still, no rebellions). To Abbey Street, to the Scout Shop, bought the Gaelic Badge. Then, over the bridge, the hunry and homeless girls preparing their signs, and I'm wondering if they've learnt to spell hungry properly yet, or maybe they intentionally spell it hunry to appear even more pathetic than they actually are, but don't stay to find out. Through Merchants Arch, and the coke bottle drummer is really giving his legs a belting. He was wonderfully tuneful legs.
1:27pm
Mother Redcaps Market. The usual stuff, some okay instruments, some Celtic-design belts, glass etchings, and noticing that the front page article in The Irish Times concerns Rickie Lee Jones being refused permission to sing The Altar Boy on some show called Kenny Live, in case it offends the sensibilities of the Irish. Bejaysus, what these priests do to their altar boys should offend their sensibilities, and another article on some new Beatles project, the re-release of massive amounts of stuff. Not as though they need they money, although Paul McCartney might want to make a bid for the entirety of Scotland.
Later
St Nicholas of Myna. The bust of Santa himself up high, above the window, in profile. The Virgin Mary's halo is a neon tube with metal stars, still, the grotto is kind of cool. I wonder if prayers in this place basically amount to Christmas wishes.
3:18pm
Out there in Bride Street, there's some kind of research project going on, as students armed with maps are wandering around, and taking notes. Maybe their great leader is dropping pearls of wisdom and giving great insights into the exterior presentation of the Napper Tandy.
5:10pm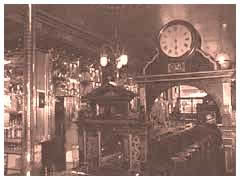 The Long Hall, another Guinness.
This is like home. We tried some others, The Mercentile, the new pub on Dame Street, but it's too new and feels more like a restaurant than a pub. To The Oak, but it's full of young thing trendoids, so, only really one alternative left, here.
It's not really busy, and seeing a child in here was a bit surprising, as they're supposedly not allowed in, according to the notice on the door. I'm thinking "Hey, you with the kid, piss off," but I refrain, but when this kid starts a playfight with his dad, punching his stomach and pulling his ears, I can understand why they're not welcome. Was really pleased when the family buggered off.
Over there, along the opposite wall, there's a old woman with a scarf around her head, with her son who has a mobile phone. He's speaking into it. I bet he just rang the Da that the Ma has just been complaining about, something along the lines of "Hey Da, clean the flat up will yer? Ma reckons you live in filth an' only care about yer three pints a day". Except pints is pronounced points.
5:53pm
And Holy Mary Mother O'God, there's a grey Rolls-Royce parked out the front of the Napper Tandy. Jaysus, hope they've got the minders out. Maybe one the skinny wreck from the Iveagh Hostel really hit the jackpot with this morning's 98FM cash call or something.

7:00pm
Found the Yeats poem about how he thinks he may be responsible for getting several young boyos shot, through inspiring such thoughts in his play 'Cathleen ne Houlihan'. What a bloody egotist, taking responsibility, or suggesting that the ultimate inspiration for the Easter Rebellion was of his single-handed inspiration. Yep, I did it. May not have fired a shot, or have been anywhere near the GPO in O'Connell Street, but the glorious moment is all mine. Yep, they were all fired up that night in the Abbey Theatre.
Kind of a pity that Pearse didn't get Yeats to sign his name on the Proclamation; that Connolly didn't give him a position to defend; that Maud didn't hand him a rifle as they were brought into Howth Harbour; that Constance didn't give him lessons in how to shoot the thing. A pity he wasn't taken to Kilmainham, put up against the wall of the Stonebreakers Yard, and shot. Maybe he could have written some truly great prison poetry that more fully deserved the Nobel Prize, rather than the fairy filled floss, the mountains of drivel about his home, and the continual love poetry for Maud. A pity Maud didn't shoot him herself, although he probably would have written an Ode To The Bullet. They shot Thomas McDonough, so being a bloody poet wouldn't have saved him. Yeats would have been the martyr to end all martyrs.
Sunday 22/10
8:22am
News. The Ulster Unionists are having their conference at Portrush. Obviously, having a great time. Water slides, amusement arcades, Funland and Joyland, and the shootin' galleries, all a good Unionist needs. Bet David Trimble insists on first go on all the rides.
11:06am
And my poster man had both the Liam O'Flynn and the De Danann posters, what a guy. The De Danann one was kind of damp, so at the moment it's drying out on Shannon's floor. Had to bribe her with the offer of a Taz.
12:02pm
A Taz search. First down to the Londis, but no. Read the front pages of today's newspapers though, 'Ireland On UFO Alert' and 'Paula Yates in 4 in a Bed Romp'. Then around to the Kevin Street Mart, no Taz's, but lots of Bugs. Two Bugs please. Two doors up, they have Taz's, bought two of those as well.
1:49pm
Grafton Street. Not only are there Bosnian beggars, there's now Bosnian buskers. Anything vaguely Eastern European is trying to pass itself off as Bosnian. Or anything that's been under a sunlamp for an hour or two ..
6:12pm
On the balcony, and there's two girls below having a noisy conversation:
"How d'ja feckin' pay him back ?"
"How d'ja feckin' know ..."
7:50pm
Feck, just had a huge fecker of a firecracker thrown at me, while I was on the balcony. It bounced off the railings, and exploded with a hell of a bang on the footpath below, setting off the blue flashing alarm above Gary's over the road. I think I may still be in shock, literally. My hand is shaking. This is the equaivalent to a quarter of a stick of dynamite we're taking about.
8:20pm
The alarm is still ringing.
9:10pm
I think it's gonna be ringing 'til Gary arrives tomorrow. There's no garda rushing to the scene. What's the point of an alarm, when no one does anything about it. If it were a robbery on Gary's , I'd had have time to stroll over there and clean out his cigarette stocks, stroll back, and smoke the lot. Jaysus, I'd be fillin' me pockets with Taz bars too.
Monday 23/10
6:22am
It's hard trying to sleep through an alarm, all night long. Shite, I feel like shite. The scary thing is that means that not one garda patrol has wandered down Bride Street since yesterday. Not one.
8:18am
Finally, it's stopped.
12:39pm
Read The Irish News, Super Prod vs Super Taig, how they hate each other, still. Marches and insults and past events and recriminations and how Dublin's not doing its part and flying flags and the IRA and the RUC and David Trimble smiling.
2:00pm
Hodges Figgis. Reading about Maud Gonne, trying to discover what happened to Iseult. She never was a MacBride, she was a Gonne, but became a Stuart, and died in 1954 from cerebral thrombosis, so she can't have been the ice-cream lady at Drumcliffe. Pity.
4:22pm
Outside, two kids have been cornered by the garda. Don't know why they bother. Why not just drop a match into their pockets, officer. Just be done with it, blow their balls off. Do us all a service, sir, so these bastards won't breed.
8:29pm
Suggesting that the essay that Liam's has to write on Parnell begin with the extract from Portrait of The Artist, 'They killed my King !" No God for Ireland.
10:45pm
Wondering if U2 will be showing their faces in Dublin this year. Probably not.
Tuesday 24/10
6:55pm
Filling out the four visa applications for the United States. Identification marks, so, if we get shot or mugged or stabbed they can identify the body probably; Ever participated in genocide? No, but when I was teaching 8E back in 1993 I could have had them lined up against a wall and shot. Purpose of visit? To replicate the Thelma and Louise drive, but without driving into the Grand Canyon. Have I ever been a drug addict? No, but I've taken panadols occasionally, but I didn't inhale them.
10:44pm
Didn't go to the Auld Dub tonight. I guess about now they'll be flicking the lights, last round folks. Wondering what I've missed. Maybe they were really firing, maybe it was the greatest session of all time, anywhere. Maybe the Chieftains popped in for a quick pint and decided to whip out the instruments. Maybe Liam O'Maonlai's singing the Lakes of Ponchatrain, with Sinead O'Connor, with De Danann, maybe Frankie Gavin's really giving the fiddle some stick, the rosin like a nuclear cloud above his head, maybe Ringo McDonagh and Colm Murphy are playing bodhran duets to beat all ...
Wednesday 25/10
morning
News. The mayor of New York has just thrown Yassar Arafat out of some kind of official reception. Implicating him in the murder of some Americans. Maybe they didn't ask him if he'd ever participated in terrorism on his visa application.
9:20am
Museum
On the way, the gun totin' cowboy from the Dublin Costume Company totin' his guns at the traffic at the top end of Grafton Street; through the Hibernian Arcade, and the cute chick from the Chocolate Shop cleaning the inside windows; into Hodges Figgis, where C is reading Oceans Of Consolation, about Irish emigrants to Australia. In English bookshops, this book is found in the 'third world' section. Australia, to the Brits, is a Third World country. Briefly looked at Heaney's Redress of Poetry, making something of point about Yeats' Thoor Ballylee being on one side of the country and Joyces' Martello Tower on the other. I think this is meant to be mightily significant.
11:33pm
Museum.
Morning break. Talking about Byron and Shelley. Shelley and his Mary dropping their pamphlets from their hotel windows onto the heads of the people below. The Museum Mary telling us that Shelley lived in an 'irregular situation' with two women, half sisters, 'til one of them decided to get herself a poet, went after Byron, who, apparently, 'declined the opportunity."
Don't know what happened after that.
2:00pm
A browse through the Viking exhibition, upstairs. The Cross of Cong has been moved up there, and the Shrine nearby. Left when the green schoolgirls piled in, crowding around the skeleton in the coffin-like display case. Silver ware, glass ware. No sign of the music room. Discover later that it's been dismantled, and will probably see the light of day again sometime up at Collins Barracks.
3:55pm
Finished another Westropp book. Raghnall's been in to collect the copyable negatives. About £5,000 worth, apparently. Suggest the publication of Westropp's Greatest Hits. Yep. Maybe. But it won't be in my time here, unfortunately. I could do it off the top of my head. I know what's there.
7:50pm
I think I'll call the book 'Travels with TJ'. But the Westropp family probably wouldn't appreciate the kind of comments I'd make. There's no Westropp's in the phonebook, and I don't know all that much about the man, other than he took a mountain of photographs, 98% of which were utterly boring.
10:06pm
I'm writing Liam's essay on Parnell . Should be able to get it finished tomorrow. It's only three pages, the trouble is writing it in a style that could pass for Liam's:
"Hay man, you messin' with m'wife ?"
"Well, yeah, watcher goin' do about it, then ?"
"Arm wressle yer, then , two outer three ..."

Thursday 26/10
7:50pm
National Concert Hall

Green 23, "to your left, sir."
Don't feel like much of a sir, when I think I can smell my own socks. Feeling like a folkie that's wandered into the wrong place. But no, there's Liam O'Flynn merchandise being flogged in the foyer, like any at folkie-turn.
8:48pm
Intermission. Those unfortunate enough to have the seats Green 22 and Green 24 have cleared out rather quickly, must've been after smellin' m'socks altogether.
Nolliag Casey and Arty McGlynn, began with The Em Reel and finished with Music for a Found Harmonium. Then The Voice Squad, who ended their set with The Parting Glass.
11:15pm
and one by one, Liam welcomed his various guests, ended up being:
| | | | | |
| --- | --- | --- | --- | --- |
| Arty McGlynn | | | | the crap drummer |
| Steven Cooney | Liam O'Flynn | Sean Keane | Paul Brady | the keyboards guy |
Friday 27/10
6:46am
The final and first tracks of The Given Note were the first and second items on the repertoire last night, getting most of the album along the way, and others. Sean Keane's reels, Paul Brady's "Arthur MacBride". Good concert, but everything seemed slowish. And the totally crap drummer ruined "The Smith's a Gallant Fireman", bejaysus, wouldn't know a roll if it had a salad on it and a big sign saying 'Eat Me'.
12:02pm
Moore Street. Tobacco's getting scarce. I'm told I can get it from "the big red man." And he certainly was a big red man, giving me the choice between Samson and Drum. Take the Samson. The Irish choice of champions.
Walking back through the alley from Grafton Street to Powerscourt, the jewellery shops, the demented beggar stashing her pound coins. Maybe I should twist my mouth into a weird shape and go sit in some public place, stick me hand out and say "god bless ye." I'm sure I could do it.
5:19pm
and Jud, who's in a "zen like state of calm" to cope with the Dublin traffic, has just driven us to the place where we collect the car for the next big adventure. It's red.
Saturday 28/10
10:10am
Knockaulin, County Kildare

and C asked at the newsagent where the hillfort was, but the kid didn't even know there was one in the area, eventually got sent to the cottage with the corrugated iron roof. Got the permission, clambered over the barbed wire fence, risked life and limb as the cows en masse turned out to be bulls en masse, then climbed up the rath, and sat on Finn MacCool's stone. One of the most mythologically significant places in Ireland, if not in Irish history, and it ain't even marked on the map.
and this is Visiting The Places has to say:
Knockaulin:
This 600 foot high hill, Cnoc Ailinne, is ancient residence of the kings of Leinster. Here,
Ederscel, King of Ireland, was killed by Nuada Neacht. Around the circumference of the
hill near the top is a rath called Dun Ailline. This was built by Daire Barrach, son of
Cathaer Mór, in 120 AD. An older origin has it that it was built by the King Mes Delmonn.
On the north side of the hill inside the trench is the ancient Holy Well of St John. On the
opposite side is a stone known as Finn mac Cumhaill's Stone.
Knockaulin is the NW of Kilcullen crossroads.
Kilcullen is on the main road from Naas to Carlow.
2:21pm
Lough Derg.
Gave up trying to find 'The Graves of the Leinstermen', the signs had all disappeared, and it was three miles up whatever road may have been the right one.
3:02pm
Brian Boru's fort. A walk around where the walls would have been. It's beautiful. Fair enough too, he's got the best tune as well.
7:28pm
Ennis. There's blue and yellow everywhere. Finally find an Offaly shirt in my size, XXL, in a place called Upstairs Downstairs, the shirt of my dreams, but the orange is actually yellow, so forget it. Green, white and yellow.
9:30am
Dysert O'Dea.
Really wanted to see the door frame to this church. The door into the Staff Workroom at the Museum is a copy of this, just wanted to see the real thing.
Nice heads.
And, according to O'Donovan, the walls of this place were built by fairies. They must have been big fairies.
10:10am
Leamenah Castle
Red Mary, behind an electrified fence, Private Property No Parking Opposite Gate. Looks evil enough. Yep, there's ghosts in there, and crows. Telling the kids the stories of how Red Mary hung her maids by their hair, from the windows.
10:44am

Poulnabrone.
We made our own dolmens. So have thousands of others.
It must be the thing to do here.
12:16pm
Coole
Where are the swans?
The best bit is the stairs that now go nowhere. And getting seriously tempted to add my own name to the Signature Tree.
2:25pm
Thoor Ballylee.
Closed.
If Yeats doesn't want it, I'll have it.

4:45pm
Craggaunowen Project
In the restaurant, the Celts that were involved in the re-enactment of some battle, are at the table next to us. Drinking their cups of tea and smoking their cigarettes, and videoing themselves with a camcorder. Celtic chicks, cute enough, though I doubt Maeve had pierced eyebrows. They should have blue faces though.

The Brendan boat was was a brilliant bonus.

6:00pm
Ennis
We're having tea at Cruise's.
Next door is the Queens Hotel, where Leopold Bloom's father did himself in.
Monday 30/10
1:40pm
Lough Gur
Found the wedge tomb, then the Grange stone circle. Right, then right again at Reardon's Pub, and a little way up the road. The biggest stone circle in Ireland. Imagined it'd be dark and sinister, but it's not, and, apparently:
the onetime ruler of the area, Garóid Iarla (of The Desmonds) is reputed to live under
the waters in a castle with his retinue. Here Fionn and the Fianna entered the Otherworld,
encountering giant and hideous creatures.
(from Visiting The Places)
and, this onetime ruler would emerge from the lake every seven years on his horse shod with silver shoes.
But at least there's no hippies around, no Celtic Druidic groovers this time. Maybe it's too windy and chilly for 'em, maybe the Celtic gods told 'em to piss off, maybe they're downing pints in Reardon's.
3:30pm
Kanturk
Any real estate agents handy? Damn. Never any around when you need one.
The Castle, just the place to eat Golly Bar ice-creams
Blackwater River, and the bridge that inspired Spenser to write The Faerie Queen. Haven't read it, but I know of it. Tarts with wings.
6:54pm
Killarney Youth Hostel
Oh God. There's more bloody Australians here, they're really loud, and they're talking about Australianisms. Why don't they just shut up. C has just offered to unpick the Australian flag badge from my jacket.
Killarney Bookshop
Two American girls buying what they knew not, on the advice of somebody who suggested something but which they couldn't remember. Couldn't tell the difference between Seamus Heaney and Roddy Doyle. Hopeless. Then the other fat American wanted the book she'd seen in their hotel, a paperback, with different scenes on the front. Do you have it? Thick as .. but not as thick as these Australians at the YH.
10:55pm
Just reading the papers. And on page 3 of The Sunday World, Kylie Minogue, our own little Singing Budgie herself, has her tits out. Meanwhile, Three hundred killed in a Tube Train fire; The Beatles 4-1 favourite for the No.1 single this Christmas, some Kerry boy killed in an accident has had his bits transplanted into four other people, tomorrow's weather should be fine, Bob Geldof's new girlfriend was the tart who played Sophie Marceau's handmaiden in Braveheart, Mary Robinson's husband fined for speeding, while her own comments about divorce have upset some, something about the miserable lives of incredibly rich women, and, more tit news, on how women can dream their way to enormous tits "hypnotist puts girls under a spell to make them grow".


Guess I'm up to date with what's going on.
Tuesday 31/10
7:58am
Halloween. Samhain, and at the stroke of midnight tonight, the spirits roam the earth, released through the tiny crack in time between the end of the old Celtic Year and the beginning of the new one.
Later
Ladies View, Muckross House, the entire Killarney experience...