7:54am
And in the five minutes it took to have a cigarette on the balcony, 21 garda walked down Bride Street, a few singly, but most in groups of three or four, and two garda vehicles. Dame Street must be wall to wall. Bejaysus, now there's a fleet of garda motorcycles, in formation.
10.15am
Airforce One has landed.
10:29am
He's now Bill's meeting the dignitaries, and the woman reporting from the airport is getting quite ecstatic. Bill's having a good hair day, and he has a lovely tan, apparently.
2:08pm
College Green
And there's Bill Clinton. And Hilary.
3:16pm
And the best bit was C shoving back some stupid bastard who was shoving forward. Jaysus, he came close to crawling home with an American flag up his arse.
Still, Bill spoke well, hit all the right buttons, U2, Cranberries, Seamus Heaney and James Joyce, and the Famine and Irish emigrants, and the peace in Northern Ireland, and calling himself a "True Dub". Plastic flags flapped en masse. 50p each. Dame Street was knee-deep in discarded ones on the walk back.
7:47pm
Seomra an Cheoil
Pierre Bensusan's just hanging around with a few of the far less than 50 that are here. Anyway, a glass of white wine and .. peanuts .. bejaysus, haven't had a faceful of peanuts in a long time.
Pierre would like a smoke-free environment, apparently, which he's not getting. And hey, I should have done what that guy over there has just done, just take an entire bowl of peanuts and scarf the lot.
A white room, small stage, one guitar, one chair, one microphone, a small battery of effects pedals.
9:59pm
Half-time, and I think Pierre has scored with the gorgeous French-speaker in the audience who is also about to publish a book on guitar technique, with references to Bensusan's DAGDAD tuning. She offered him a perusal of her proofs.
10:06pm
Still half-time. She must be offering him more than a perusal of her proofs out there in l'jardin d'amore.
11:37pm
Second half was great. Moroccan Ramadan, the Victor Hugo song. Hey, Pierre, just so you know, the 'joke' about irradiated Australian wines offended greatly. And, just so you know, I love your music, you are a genius, but I won't be buying any more of your CDs.
Saturday 2/12
10:31am
Reading the papers, an article about Bill Clinton, who only had a half-pint of stout, and an ensuing argument over whether he drank Guinness or Murphy's, but, bejaysus, can't the man handle a pint? Pathetic. The most powerful man in the world drinks half-pints. And just the one. And he calls himself a True Dub.
2:15pm
The GPO, buying stamps, then to Henry Street, and the streets are claustrophobically crowded. The sellers, lighters, Christmas paper at 'foive for fifty'. No tobacco though, not a shred, and apparently won't be any until after Christmas.
The sun's come up, the buildings along the quays are lit up, the Liffey looks nice, and we tracked the poster man. Got a Mike Scott. Back to the apartment, through the Castle shortcut, having a look at the newly repaved courtyard, done up for Bill's visit.
"It's so beautiful, Bill."
"Well, yeah, Hilary, it's just like Ballybunnion."
a bit later
Temple Bar. And while passing the Bad Ass cafe, get the urge to buy Shannon a Bad Ass t-shirt. There's only one size, extra large. Whatever. £7, okay then, and it's okay, she'll just wear it now.
11.57am
In O'Connell Street, near Dr Quirky's fun parlour, two costumed people, in Celtic warrior garb. Now there's something you don't see every day.
3:10pm
Saint Patricks
The Advent Procession With Carols.
Which they'd refrained from turning the lights up, as it was all very atmospheric with just the candles. Imagining myself as an Irish boyo, no, an Irish farmer who attends church every Sunday to eye off the girls, like the one over there, in the brown coat and jeans who isn't singing either. And, bejaysus, when the collection plate got passed around, those notes looked kind of tempting, but no, in went the 20p.
Not sure about the song that ended with righteousness falling from the sky.
10:26pm
Reading the Sunday paper about Clinton's visit, about being served a 'warm beer' in Cassidy's Bar. Which, according to the 'ABC' is "they way they drink it over there." Not sure if it's the Australian ABC or the American one. Sounds suspiciously Australian, not knowing the difference between Ireland and England. They drink it warm in England, not here.

Monday 4/12
10:33am
Sandymount Green.
Been in the pub for over an hour, which I think is called Ryans, but maybe it's Sandymount House. Whatever, it's a nice pub. The walk here was pleasant enough, Northumberland Road, Bath Road, Sandymount Road, down Newgrove to the Sandymount Strand, where Gerty flashed, now I'll be able to say, well, yeah, been there.
The pub, by the fire. Coal burning red embers.
12:35pm
The number 3 bus, the ride back a tad uneventful, except for the boyos for whom the bus didn't stop as they weren't at a designated stop, running, catching up with it at the next stop, yelling "bastard!" at the driver as they ran. Great craic altogether that was.
3:36pm
A cuppa at Bewleys, and then a walk back through Temple Bar. C has an urge to look in the Harley Davidson shop. Expensive t-shirts, jeans, leather jackets, all bearing the HD logo. Could fancy C in a pair of HD fishnet stockings, but they didn't have any.
4:00pm
Apparently the 'yes' victory is to be legally challenged. Jaysus, can't some people take yes for an answer ?

Tuesday 5/12
9:40
The All American launderette on South Great Georges, our favourite, didn't survive very safely at all. Got arsoned during the night, great holes bashed through it's thick windows, with the footpath in front piled high with melted laundry buckets and burnt washing. Why would someone burn a launderette ?
Convincing C that she needs to walk through St Stephens Green, much like it was when we arrived. The yellow door of the house there. Being approached in the Green by some grungy old guy who asked if we were Australian. Yes. Have you seen Kilmainham? Yes. Brilliant. Then he drags out a book from his flight travel bag, and recommends 'The Boys of Kilmichael'. Now, in what other city would passing bums give you book recommendations ?
10:20am
Museum
Holy Bejaysus
I've actually touched the Cathach.
To Raghnall, the most important object in the Museum's collection, bar none.
2:00pm
Museum.
Finished Westropp's negatives of Athenry Castle . On one of them, there's graffiti 'Vote For Fahy' written on a wall near the Athenry Gate. However Fahy was.
7:47pm
Wicklow Street. Tower Records. Reading the new 'Rolling Stone', and an article about John Bonham, and saying that only drummers can appreciate volume, how hard a drummer can play. What crap. Jon Bonham never played anything other than 4/4. Throw him anything else, like 'Black Dog', and he's totally nonplussed about where this extra beat is coming from. Listen to it.
Liam made a movie this morning. Of me, going to work. Filming all the way, through the streets, Stephen Streets, Upper and Lower, the posters, crossing Aungier, the Hairy Lemon, Gaiety and Dunnes, Grafton, picking up an IFC brochure from HMV, St Annes with the church at the end, Dawson, Molesworth, the Ulysses plaque, yes safe, and finally reaching the Museum, had to explain what was going on to Security, as filming's not allowed, and it was okay as long as they were allowed to be in it too, then me knocking on the church door, being allowed in, Andy, Mary, then through to my desk. Liam filmed it all. It's a great movie. I think I'm going to watch it lots of times, later. Really.
2:00pm
And Ned presents, to me, the 'handsome' Agnes O'Donovan. Agnes. Some parents still call their kids Agnes. I explain to Agnes about what's to be done with the Westropp's. Peeling the prepared transparent stickers, and putting them on the negatives.
a bit later
With Nigel, to sort out some apparent problem with the numbering of the Westropps. So, it's upstairs, through the Ceramics room, which is mostly overcrowded glass cases, and no wonder ceramics people are all depressed, it's really badly lit. Shown the Egyptian Room, which at the moment has nothing Egyptian in it; a Furniture Room, the Linen Room, through the Viking Exhibition, which has been slagged from high places as outmoded and boring (which it is).
Then, holy of holies, the Music Room, the one I've asked about. Jaysus, it's heaven on a stick. Harps galore, and fiddles aplenty. I feel this deep seated need to tune the buggers up, and think it's tragic that they're not played. Wooden instruments need to be played to keep their tone, or they lose it, something to do with the molecules of the wood being shuffled around, the more they're shuffled, the better it sounds, or something like that. At one time, these instruments probably sounded fantastic, now though, they'd sound like shite.

Thursday 7/12
8:40am
And apparently the dreaded 'blackice', whatever that is, is back on the roads again, and we're to be extra careful as we drive to work today.

8:45am
South Anne Street Post Office
Outside, waiting for it to open. The women, also waiting, getting crotchety in the cold. Finally , inside, and the 'free' tellers windows are announced in English and Irish.
6:56pm
Trying to match up the 'Rockbrook Walk' from the Wicklow Walks book, and the Dublin Map. The only way it seems to fit is if one or the other is turned upside down.
10:42pm
Outside, there's a group of kids, the boyos and the girl they were walking with up to the corner, a drunk with his hand out, passing them, the girl put a piece of paper into his hand, and he throws it away in disgust.
Friday 8/12
11:27
Dunnes Supermarket
The guy who always asks for 'the price of a cuppa tea' is back, at his usual haunt, outside. Didn't see him at all over summer. Maybe he had all his cuppa teas in Spain or somewhere else.
12:02pm
The Baggott Street Superquinns, buying pastry. On the way, some event at the Telecom Centre involving kids and giveaways. And while Mrs Claus was okay, Ms Elf had nice legs. And at the Musicals shop in South William Street, I could have bought a Riverdance calendar.
1:05pm
The Savoy.
Every time Liam and I walk around the top end of Capel Street, he comments on how he's never been there before. Maybe he just sees it with fresh eyes every time, wish I could. But, meanwhile, the people behind us are chowing down on hamburgers and popcorn, and getting a headstart on turning this cinema into a rubbish heap. Anyway, 'An American President' is about to start, we've just had the yellow Irish Ratings slide.

8:42pm
Just delivered Shannon to the Mount Temple Disco. The Junior Classes, all having to present a Library ID or their Ticket, groups of 'em milling outside. I have an instant distrust of the lot, the boyos with greased hair and the girlies with silk black dresses.
8:50pm
The 123, back to Lord Edward Street, and bejaysus, this driver's flying. Whipping around the roundabouts of Marino Crescent like he know no fear. And on the bus is Jennifer, apparently. Jennifer of the red jacket, and black tights and too much lipstick that has spread slightly beyond her lips. Maybe Jennifer has promised the bus driver that as soon as we're back at the depot, I'm yours. Yes, tonoights yer noight boyo.
8:59pm
and there's that Enya poster, the one where she's burying her head into her cradled arm. For the Memory of Trees. Looks more like the Memory of Just having Had Sixteen Pints. The poor girlie doesn't look at all well. I think it's meant to look kind of cosmic and other-worldly, but no, it looks like "think I'll just have a lie down as the world is spinning" kind of thought.
Saturday 9/12
12:07pm
The 47B bus has just arrived, but no, it's not ours. We want the 47A, due at 12:20.
12:15pm
We're on the 47, same as the 47A, according to the red-haired boyo busdriver.
St Andrews. Westland Row. Mont Clare. Merrion Square and the Natural History Museum. Leinster House. Ely Place. Hume Street. St Stephens Green. NCH, where I've seen Liam O'Flynn, twice. John Gleeson and Son. Utopia Products, red maids all in a row. The Brazen Hair Company. Richmond Street. Portobello, had a few pints in there. The Canal. Rathmines Road Lower. Leinster Road. Louis Lane. Kenilworth Road, Kenilworth Square East, then South. Rathgar Avenue. Patricks Pub Restaurant. Orwell Road. Bushy Park Road. Another fast bus driver and an odd smell of burning rubber. Rathfarnham Castle. Nillbrook House. The Tuning Fork. Taylors Lane. Whitechurch Estate. Lissadell. Tirbradden Road, on the right. And it's farms, sheep with blue paint, and cows, and expanses of green. Rockbrook. Finally, off the bum-numbing bus.
later
following the directions for Walk 2 from the 'Wicklow Walks' book. Though I don't think we managed to follow the dotted lines for very long. Up the road to the larch forest, then through the forest, along muddy paths, roads, farms, asking anybody that passed for directions, Deciding just to go with the flow, and not bother with the inadequacies of the map. Just leave the map folded and just wander. Worked out better when made up our own rules.

5:09pm
Finally back. To Bewleys. Westmoreland Street
Radio. It's Kim Taylor and the Australian Music Show, kookaburras and AccaDacca. But whoever this band is, Skunkhour or something, are as bland as all hell, and whoever's responsible for the song 'Sexuality' has got to be a wanker, and 'Past to Present' is a major league wank. While 'Swoop' apparently mixes traditional 'sounds' with 'today's funky sounds', and their songwriter is today's special guest. Yep, "people try to tell me the way I live is wrong," and, yep, they suck, and the way you live sucks. It's Demi Hynes, and yep, it's that boring, plodding disco, a real '70's thang.
10:58am
"I wonder if you could direct me," asks some old bloke, who's obviously been knocking back the pints already this morning, "I'm looking for a one bedroom flat."
"I have no idea," I reply. Jaysus, I'm totally unused to this particular method of finding an apartment.
4:20pm
Down to Past Times in Exchequer Street, the book on the sex lives of British Royalty has sold out. Yep, they might have become a Republic, but don't the Irish just love Royalty, just can't get enough of 'em. Jaysus, and takes a month to order a CD from London as it's considered a 'foreign' import.
5:39pm
Grafton Street.
C is on the search for cellophane. We expected to be asked if we wanted it in red, blue, green, orange, purple, yellow or clear, but instead, we're met with blank looks. Nobody knows what it is. Maybe they think it's a brand of condom or something else you can only buy in the North. Tried three or four places. Nowt.
10:40pm
Sitting on the balcony, having a cigarette, and boyos on Bride Street below.
"Are yez given us a smoke ?" I'm asked.
"No."
So, I'll expect the brick through the window in a few minutes.
Monday 11/12
10:20am
Bewleys Westmoreland Street.
The guy on my right has just emptied an appalling number of sugar saches into his cappuccino.

2:00pm
The Long Hall.
C's been making a video in here. Took a few goes to get it right, and it's .. well ... okay .. but I doubt she'll be up there on the stage tearily accepting the Oscar for Best Documentary.
We're going to miss this place. The atmosphere, the pictures, the barman, everything. Maybe if the rebellion that was apparently planned in here had worked, this place would be better known. Pity. But then, planning a rebellion in a premise that kinds of backs onto Dublin Castle might not have been the smartest move ever made.
3:22pm
Liam had an English Exam that was "heavy". Does Yeats' work reveal a man whose life was one of 'bitter disillusionment', and examine the notion of absurdity in O'Casey's 'Plough and the Stars', and some other nihilist interpretation of Catcher in the Rye. Glad it was his exam, and not mine.
Tuesday 12/12
2:04pm
The Beatles Anthology 1 is now the best selling CD in Dublin. Well, I'm ever so surprised. And Number 1 in the Best Selling Books list is the 'Joint Rolling Handbook'. So I guess there's lots of Dubliners getting stoned listening to their Beatles records.
much later
Back from another session at the Auld Dub. At the beginning, the televised soccer match between England and Portugal was mildly diverting, ending in a 1-1 draw. But somebody named Jock borrowed the bodhran to 'Irish Ways and Irish Laws' on it.
His friend insisting that the wood was veneer, no, it's not you stupid shit, and that the skin was great, no it's not, it's utterly cactus.
Wednesday 13/12
9:38am
Museum.
Spinkadoon, in the Townland of Gortbrack, County Mayo. And where the hell is Aughragalliagh ?
10:06am
It's actually Augheranagalliagh. Jaysus Westropp, everybody knows that.
8:43pm
Clarkes Lounge Bar, Wexford Street.
Whelans and Ryans were full. The televised Ireland vs Holland soccer match is really packing them in. Some great commentary on the match though "if we don't get a goal it's all over". There's a sense of impending Doom about this match.
9:33pm
Two great saves. But two too many.
9:45pm
Just one goal please. So I can whoop and cheer ?
9:52pm
Nearly. Again. Too many nearly's.

9:55pm
And Holland gets another one, 2-0. Fuck.
10:00pm
And that's it. Not a single goal. Old Age I reckon, too old and too slow.
Thursday 14/12
morning
Our landlord called in this morning, apparently. With his wife, whose great grandfather was a Liberties boyo, but got out by joining the British Army.
6:06pm
On the way back from Tower, an impossibly pretty 'hunry and homeless' girl, look away, she'll nail you for money if you don't, and later, a couple in a pub on South Great Georges, her with red-dyed hair spotlit; and Bill Whelan's doing the music for 'Some Mothers Son'.

8:22pm
Down the Londis in Patrick Street for a packet of Marlboro's. Samson can't be bought, and Mars taste like they've been fertilizing the tobacco fields with DDT. Reading the new Empire magazine. Pulp Fiction's been voted the most favourite movie. Reservoir Dogs is Number 3. While The Shawshank Redemption gets the Critics' Award, while Braveheart gets second. Think I'll stay with the critics.
Friday 15/12
10:36am
And, at the top end of Werburgh Street, near the Castle Inn, a plaque has appeared announcing that this was once the site of 3 Fishamble Street, birthplace of the poet James Clarence Mangan. Near James Clarence Mangan's birthplace is the seat where the the old homeless men sleep on after the tourists have left.
Weird though. Maybe I should have a look at some early maps of Dublin, but I can't see how a house in Fishamble Street was once a house in Werburgh Street.
1:37pm
To Moore Street.
Fruit and vegies. And finally, the Samson tobacco is back on the streets. The stuff I've been told that there won't be a shred of until Christmas is back. Praise The Lord. In Golden Discs, at the Ilac Centre, I still can't bring myself to buy Alec Finn's 'Blue Shamrock', even though it has been discounted to £4.99. My protest at De Danann's cancellation maybe.
1.58pm
Bewley's, in Mary Street. Near the fire. The stained glass in here is brilliant.
| | |
| --- | --- |
| Finally, out and up Mary Street. To Wolfe Tone Street, with the facades of buildings, the gutted Jervis Street Hospital, over the Grattan Bridge, up Parliament, down Werburgh, my cap blowing over the railings of the St Werburghs Church, the place where the cats get fed all the discards from Burdocks. | |

9:26pm
Began reading Household Gods. Set in India in the 1930's, or at least it is at the beginning. All very English with Roger and Anthony and tiger-hunting and drinkies on the verandah and horse riding, while the women retire and the men smoke their cigars and have the double shots of whisky, and they all despise the natives .. typical Brits.
Kavanagh's. The blue pub in Marino. And, and I've just discovered, you don't have to ask for 'a pint of Guinness", just 'a point' will do. The cricket's on TV, South Africa and England. South Africa are 137-5.
The pub is full of old men, and I may be the youngest one here, but I think I could include myself among the 'old men'.
12:18pm
Still here. Now there's a retrospective on Jack Charlton on, and the bar goes reverentially quiet. He's gone, the Irish team have gone the entire series and couldn't even score a single goal against anybody.
1:30pm
On the 123, heading back, there's a woman in a blue beanie telling whoever was next to her about being born in the Liberties, but laughing "no," when asked if she still lived there. I guess if you were lucky enough to get out, then you stayed out.
2:49pm
The IFC.
Membership required, £1, and the tickets are £2.50. And I'm wondering why people who sit behind you in cinemas always want to kick the seats and say 'fuck' a lot. And yes, pal, not only should they stamp 'student' across the top of your IFC student pass, they should also tattoo 'feckin' eedjit' across your feckin' forehead. We moved.
5:28pm
"The horror, the horror ..." Apocalypse Now is a truly great movie.
St Patricks Cathedral
For the 'Service of Nine Lessons and Carols'. Shannon and I managed to nab some seats near the front, despite being told that only the transepts were available. Ha! It's getting rather crowded, almost Standing Room Only.
2:55pm
The organist is really letting rip. Big chords, shaking the seats, showing what he can really do. Final chord, held, ta-daaahh! All fingers, and probably his nose, on the keyboard.
Those people on the side can't see anything, so nyahh nyahh nyahh, and just over there, near the transept door, is the tympanist, while behind the altar with the cross flanked by two enormous white candles, is ... the Christmas Tree. Just lights, no baubles, no Christmas charms, no dangling presents, no shepherds crooks, trumpets or tiny drums. Just lights. Damn, there's a gold star at the top. Thought it simple and dignified until I noticed that.
Later
and the Service was brilliant, particularly the Hark The Herald Angels with an arrangement from The Messiah and complete with tympani and trumpets, and the choir singing harmonies above the 'all in' songs. Almost found God in the details.
On the bus, the 8, to Sandycove.
And C's being earbashed by some woman who's apparently just out of hospital, and she's on about the wonders of Australia, and about a place she calls 'Brisbayne'. Now she's somehow connected that with Saint Patrick and the Vermin, and the weather, and koalas, and sunshine, and, somehow, Florida, and how about there's only two types of people, them being "the church goers and the boozers". Momentarily, near the bus-stop in front of Trinity, there's silence. But not for long. Her husband's French, and "keep your mind clean for God, I said to my son, don't you be reading them dirty tings, you should be reading The Bible, and the gospels", she's really going for it, now she's onto Star Signs, and apparently C's Capricorn sign means she's a "winter child". Jaysus, try convincing someone born in Castlemaine, Victoria, in the middle of January that she's a 'winter child', and Holy Bejaysus, now she's on about some old Tasmanian aboriginal with Scottish roots. Yep, this one's a nutter, particularly when she calls herself 'Mrs Pavarotti' and nearly falls off her seat laughing at her own joke, and we're here, and her final farewell of 'conversation is blessed and lovely'. Not this one.
lunch
Christmas Lunch with the Museum staff.
3:59pm
We're on The DART.
We've been here since January and amazingly enough, this is the first time. Dun Laoghaire Station, Salthill and Monkstown, and someone's drawn a moustache and beard on the poster of Sophie Marceau at Seapoint. Blackrock, nice view of the Power Station. Booterstown. Sandymount. Landsdown Road. Seats are not for feet. Pearse Street. Tara Street, we're off.
Bit of a highlight, that.
4:52pm
On the way from Tara Street, at the Nassau/Dawson intersection, a nun has been clobbered, she's lying on the road, in shock, her hands bloodied. An ambulance arriving on the scene. Jaysus, I guess some boyo will be fearing hell and eternal damnation for sure, maybe he thought nuns had divine protection, like some kind of Holy Deflector Shield. Guess not.
8:45pm
Olympia Theatre
And Steve Wickham's band has just finished. His playing is brilliant but his repertoire is shite. American Country complete with chicken noises on the fiddle. It'll take more than chicken noises to put the Count right back into Country and Western.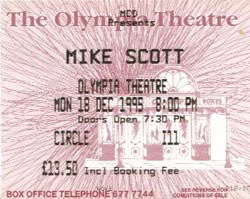 11:00
But Mike Scott was fantastic, just absolutely feckin' fantastic. All of it, even the stuff that sounds born-again. And the encore, with Steve Wickham, of The Whole of the Moon, the second greatest song ever written, then Fisherman's Blues, oh bejaysus, must be gettin' on the emotional side, but nearly goddam wept again.
Lots of new stuff, apparently Dublin is a city full of ghosts where buskers play old Waterboys hits, the Return of Pan, A Man is in Love, Old England, Don't Bang The Drum, Trumpets, and another one about wanting to break down Edinburgh Castle, and another about Growing Towards The Light. Then the encore.
Museum
Westropp's negative of Leck Castle. It's in Count Kerry somewhere. Wish I'd known of it before we toured Kerry, looks wonderful.
9:55am
It's in the Townland of Faha, Kilconly Parish, and it's really called Leac Behionn, or, according to the first edition of the 6" maps, Lackbevune Castle (in ruins, naturally). And it's just a tad north of Ballybunnion, the place Bill 'I'm A True Dub, But Just A Half Pint For Me' Clinton likes to think of as home.
11:48am
Yes, Virginia, there really is a Ratass. It's near Tralee.
late
Off the The Auld Dubliner. For what possibly be my last ever session there.
much later
Jaysus, what a session. Ollie and Donnica (both pipers) both firing, into these enormously long sets, tune after tune after tune. And some chick from Clare, playing whistle and bodhran. Telling me about Spanish Point, and
going to school there, by bike.
Wednesday 20/2
8:00am
News.
In Belfast, the Direction Action Aginst Drugs group is now killing people, two in the last 24 hours. Weather, there's a threat of snow. Sounds wonderful to me.
9:16am
Museum
Back to the Westropp's. He's in Clare today. And, there's Spanish Point, where there's been probably more than a few Larks in the Clare Air. And I'm wondering if the chick from last night pedalled the same places that Westropp has photographed.
afternoon
More bloody townlands in Clare, all around Kilkee, down to Loop Head. The townland that includes Loop Head is Ross. Illanadoon is in Moveen East, while there's lots in Foohagh.
Thursday 21/12
7:32am

Apparently John Major's in town this afternoon, to check if the twin track is on track. Maybe someone will tell him that he has the opportunity to become Britain's greatest statesman through being seen to have created peace in Ireland, but who seems determined to continue to play the arse. God knows why. Maybe he's a moron. And The Queen has asked Chuck and Di to divorce.
And today is the shortest day of the year, and the day when the morning sun shines through the light box at Newgrange. It's still dark outside, and I wonder if the crowd is inside Newgrange already, waiting breathlessly for the sun.

9:08am
Museum.
This is my last day here. Walking Golden Lane and the Stephen Streets and crossing at Aungier, passing Harrisons Gallery then Break For The Border and its horsebacked Indian, Mercer Clinic, crossing, the Gaiety, up Grafton Street, HMV this morning playing Born To Run, up South Anne Street, the queue waiting for the Post Office to open, crossing Dawson, the Sun Alliance building on the Molesworth Street corner, then Government Publications and Anthony Antiques, the Passport Office, crossing Kildare, the last time I'll glance at the Ulysses 'safe' plaque, the now nearly bare tree, 'mornin's' to the guy who sweeps the front, the button 'clank', more 'mornin's' to the desk people, and to the lady who this morning is mopping the zodiac tiles in the foyer. Knock on the church door, this morning it was Andy who opened it, and the usual 'howarye' and never being sure of how to reply. Then through to my desk intending to finish the cataloguing. Better get on with it then.
11:02am
Having the usual cigarette out the front, in the usual spot. This morning, watching what looks like a garden shed being erected on top of the National Library. They've been building it for weeks, and it's a bloody good shed. Don't know why it's there though.
And, apparently, there's 'drinks' at 3.
11:31am
On last nights news, apparently, a story about young Australian kiddies who gave Santa a good kicking, then the presents being delivered from the back of a divvy van. Makes me so proud.
2:55pm
Finished the Westropp's. Utterly spent, done and complete. Given a present of some books on Irish History, and a card, then through to the office near The Treasury to get pissed. Talking with Mary, and Andy, Emma and the Nedettes, and leave about two and a half hours later.
6:15pm
Pissed. Two 500m cans of Heineken, another of Guinness, and a glass of Bushmills. And, leaving the Museum, tearily emotional. Collecting my stuff for the last time, across the tiled floor, everything's incredibly vivid and bright and colourful, click the front door, down the steps between the columns, along the railing, really teary now, and through the semi-closed gate. Molesworth, Dawson, Grafton, the street with Bruxelles, everything's different, more intense and bright.
6:50pm
Can't believe this. On the 123, now heading down Dame Street, to Mount Temple, for the Christmas Carols. Bejaysus, pissed and all.
9:43pm
And that was bloody great. Liam getting a round of applause during the "thanks" speech at the end, something like "to Liam, on the video, who's returning to his homeland, Australia," and I'm still wondering why the hundreds of singers on the stage had a bit of a chuckle at that one. And Shannon singing with the choir, there must have been a hundred singers or more, but she's the only one I noticed. The other 'best bit' was the the first year girl reading one of The Lessons in Irish.
Jaysus, what a day.
News. Princess Di wants £15 million, and unlimited access, as the divorce settlement.
8:50am
Bewleys. Westmoreland Street, of course. There's other Australians here. Hope they leave soon.
later
Everywhere's crowded. Too many people. Even the Burger King's full. The O'Connell Street Bridge is wall to wall people. The 'hunry and homeless' now have blankets as props. Pathetic. Probably whipped off their beds by their mammies after their filling breakfasts ...
later still
There's meant to be some kind of Millennium Clock under the waters of the Liffey. Damned if I can see it.
Saturday 23/12
7:39pm
National Stadium. For the Shane McGowan and The Popes gig.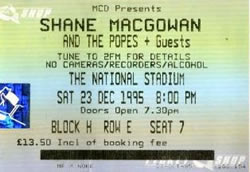 Walked here, down Patrick and Clanbrassil Streets, turning at South Circular Road. Warned that the seats in the middle will eventually be cleared away.
| | |
| --- | --- |
| Waiting. The support band is absolutely shite. But, I'm in a kind of awe of this place, as Alan Stivell recorded 'Live in Dublin' here. And I reckon he was dancing where I'm sitting, if I remember the photograph on the cover well enough. | |
11:13pm
And, no, the seats didn't last long once Shane MacGowan was on stage. Everybody stood, danced, pogoed, ended up in the middle of what must the mosh pit. From 'Streams of Whisky' to the roars when 'Fairytale of New York' began, and the crowd knew every word to every song, which tended to be early Pogues, Bottle of Smoke, Sick Bed of Cuchulainn, Body of an American, and some of the newer stuff, Donegal Express, Nancy Whiskey, But, bejaysus, singing Fairytale later in Patrick Street as we walked home..
Sunday 24/12
8:16am
It's Christmas Eve, babe ...

8:57am
And next year, we're apparently having a beach Christmas. A barbie at the beach, for that all-swimmin' all-surfin' experience. It's what Australians do at Christmas. We just heard it on Radio Australia, so it's gotta be true.
Monday 25/12
12:20am
Christmas Day, and I wonder what Santa will be bringing me this year? Hmmm .. a fabulously well paid job at the National Museum, maybe as director of the photographic wing of the Antiquities Department, maybe as Manager of the Mythology Collection ,maybe the Overseer of the Music Collection. Yeah, in yer dreams.
6:30am
... and the bells were ringing out for Christmas Day ..
| | |
| --- | --- |
| a service at St Patricks, in Lady's Chapel, small crowd, no choir, just the reading from the Communion and lots of prayer. | |
10:15am
Shelbourne Hotel. Being served by Bronagh Geraghty.
Tuesday 26/12, St Stephen's Day
4:34pm
and there's been nary a Wran Boy in sight, let alone one demanding money with menaces.

Walking. Bride Street, Bride Road leading down to Patrick Street, Kevin Road Upper, the apartments with the cityscape mosaic, Wexford Street, Whelan's closed, look down Camden Street where I've queued for concerts a few times; Bleeding Horse, Charlotte Street and the An Beal Bocht, where I never had a pint but where Pierre Bensusan stayed; along the Canal for a while, Leeson Street Lower then up Fitzwilliam, on the corner the house where Jack B Yeats lived and worked, the doors - one for the Mentally Handicapped Association, the next for the Irish Schizophrenics; left at Baggot, Toner's and the Baggott Inn both open, but no, pass by; right again at Merrion Street, somebody photographing the Christmas Tree, lit, in front of Leinster House, a garda talking into his mobile "red jumper, thin black moustache", further, another garda and two men telling him about the broken door, split wood from the lock. Left at Fenian, the Sweny's Chemist with the lemon soap that I never bought a block of; Westland Row, picking up a piece of a torn 1996 calendar from St Andrews, showing 'The Awakened Call'; left into Pierce Street, boyos behind me, then running footsteps, I step closer to the railings allowing them to pass, but expecting to get clobbered, I'm waiting for the fists, but no, they run on, then stop. Boyos ahead, boyos behind, my legs are jelly, walk on, cross the road; turn right, eventually to Townsend Street, then D'Olier Street, the Screen's closed but the Fleet's open, pass by. Cross Westmoreland, Bewley's is still closed, walk along the Quays, along the LIffey side for a bit, but then up to the Bar. The Auld Dub is closed, Gogarty's is in full swing, a session tonight, 8:30 'til 11:00. Walk down, East Sussex Street, the Project, Big Bag of Sticks on the 30th, Spontaneous Frogs on new Years Eve. It's a pseudonym for Lir. Parliament, and up. Lord Edward, Werburgh, Burdock's is closed until the 2nd. And finally back.
Wednesday 27/12
8:00am
Its -7 degrees, and they're calling it 'The Big Freeze', and the Leopardstown Races have been cancelled. Damn, was just about to have a flutter on the horsies too. And Princess DI visited a psychiatrist after spending her Christmas alone. How sad. Therappy Xmas.
4:02pm
The International Bar
The Duke was crammed, Davy Byrne's doesn't even have a wooden bar, McDaids and Bruxelles were full of trendies, so, the International, it's great, and over there, are Frenchies discussing their Frenchy things in an eye-brow pierced Jack Chirac-loving kind of way.
6:55pm
To Ned's, for tea.
Thursday 28/12
12:02am
Back, a tad pissed. I think it was the Irish coffees. Great night, Ned's wife Erin is a native of Clifden, who knows someone who "lives at the end of the Sky Road", which must be the most romantic address on the planet. Stories about The Catalpa, the FBI bust, the Islandbridge war memorial, the Raftery's, and farewells..
9:10am
More packing. The Christmas Cards have been thrown out, the polaroids have been removed from the top of the lounge room mirror, all looks rather bare and sad. By the time we're packed, any trace of us having lived here will have been erased.
7:25pm
The desk that Liam and I carried through Dublin now lies in the Dublin Castle skip. It's end seems so ignoble, it deserved a better fate.
Friday 29/12
11:57am

Been collecting and delivering various friends of Liam and Shannon, making sure they ring their parents to tell them they arrived safely.
and the apartment's been rearranged, back to how it was when we arrived.
3:04pm
Madigans Pub, near the James Joyce statue. Managed to get a smidgeon pissed on one pint. Then, down O'Connell Street, over the bridge, and the souvenir sellers must be freezing, certainly the old guy in Henry Street with the red gloves was, couldn't even hold the 'Fortune Teller' sign the right way round. Westmoreland, to Nassau, up to Reads, then Waterstones briefly, to Home Locators which is closed, so we're not at all sure now about what to do with the keys that have to be dropped off. Eventually to the Mall, Golden Discs is having a New Years Sale, which proves to be useless. Do the groceries, my brain is Guinnessed and I'm enjoying it.
5:58pm
The Ambassador, at the top end of O'Connell Street, waiting for Liam and his friend to emerge. And Daryl gets farewelled from outside Dr Quirkey's, where the 13 to Poppintree leaves from.
6:40pm
back over the Ha'Penny Bridge, which is blue-lit, at least on the two remaining arches, and the lamps are glowing red.
6:57pm
Folly. That's the word I was looking for. Europeans have a sense of it, in loads. Australians have no sense of it at all.
Delivered Shannon's friend, Emily, to the bus stop, outside Decwells in South Great Georges.
12:30pm
Abrakebabra. Merchants Arch, the one that used to be Eddie Rockets. And, over the sound system, Rainy Night in Soho, sure beats all that 50's crap they hammered when it was an Eddies. Although the baguettes are actually rolls here, and some plates would be nice.
3:12pm
And the great packing epic has begun, clothes all over the lounge floor. Most of it will be thrown out. The green flanny I wore at the dig, the grey top that I wore every day since C complained that I never wore it. It's all going to the travellers, somehow.
4:30pm
Just when you're about to leave, the Liberties Londis finally hires someone to match Zelda of the Sorrows, some thick-lipped soft beauty. Buying Banshee Bones, the last, the salt and vinegar snack of the gods.
5:25pm
And the suitcases are packed. Liam's is as heavy as hell. I think it's all the Empire magazines he's collected, but we still have too much, I don't know how we're going to cart this lot around America.
7:55pm
Paud McGee just rang, yes, he's running a bit late, but will be here shortly to collect us.
Saturday 31/12, New Years Eve
2:42am

And got back from Pauds at twenty to three in the morning. A brilliant meal, salmon (with lemon and bread), venison with mushrooms, blue vein cheese and chocolate, and an almond thingy. Jaysus, they even gave us a present, a book of photographs by Father Browne. Just sat at talked mostly, it was great.
5:02pm
Bono's spending his New Years Eve in Sarajevo. And Shannon's just discovered some amazing facts, that there are nearly nine pages of Murphy's in the Dublin phone book, and six pages of Ryans, and 54 pages of surnames beginning with an 'O' patronym.
7:26pm
The luggage is ready to go, we have two violins (in cases, naturally), two brown and one red suitcase, the camcorder, a brown, a green, a blue, a multi-coloured and a green-grey backpacks, and two tubes full of posters, one's mine, the other's Liam's.
Hopefully, all this stuff will arrive at Tullamarine at the same time as we do.
9:41pm
This will sound pathetic. It's New Years Eve. The crowds will be out around Christchurch tonight, the place will be alive, but, I don't care, I'm going to bed. I think it might be slight touch of food poisoning. Maybe it was the salmon, or the venison, but jaysus, I've felt like shite all day.